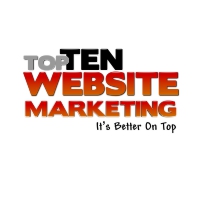 Our services can help firms grow their customer base, effectively driving more revenue right to the bottom line
Fort Lauderdale, FL (PRWEB) October 18, 2011
South Florida-based internet marketing company Top Ten Website Marketing is gearing up for its five-year anniversary in February 2012. And to celebrate, it's offering a limited-time special for new clients. For each client that signs up for Top Ten's search engine optimization package, it is offering free custom website design and website development (a $1,000 value) that will give you the Internet presence that your business needs to succeed.
In fact, businesses of all sizes have been shifting their marketing efforts toward Internet-based strategies lately – rather than traditional, more costly advertising techniques – to maximize their return on investment in this soft economy. And for Top Ten Website Marketing, a leading provider of search engine optimization and local internet marketing services, the transition is keeping them busy helping small- and medium-sized businesses grow their businesses.
"We are thrilled to be celebrating five years of helping many small businesses and large corporations double their business using our search engine optimization and other Internet marketing techniques," says Pete Pekofsky, president of Top Ten Website Marketing. "Our services can help firms grow their customer base, effectively driving more revenue right to the bottom line."
Along with the custom-designed website and expert Internet marketing services, which will place your business at the top of a potential customer's Internet search results, Pekofsky's firm provides clients free website development and hosting. With this all-in-one package, you are guaranteed to grow your customer base and show a strong return on investment.
Top Ten Website Marketing uses only the safest search engine optimization techniques, and their customers truly appreciate the personalized approach, which includes one-on-one Internet marketing consultations, helping them develop a complete plan that fits their business' needs and budget.
One of the biggest mistakes a company can make is to cut their marketing. Top Ten Website Marketing works with companies to demonstrate how to effectively use their limited marketing budget to drive business with pay-per-click management and other Internet marketing techniques, rather than traditional (and more expensive) advertising techniques such as print, radio or television. The result is often more business and increased revenues, all for a lower price.
Top Ten Website Marketing can also show how website design can determine the effectiveness of your marketing campaigns. They specialize in creating "search engine-friendly" websites that will land you at the top of the list when performing an Internet search.
For more information about Top Ten Website Marketing, or to have us put together a personalized, cost-effective Internet marketing plan for your company, please call 305-970-5699 or visit us at http://www.top-ten-website-marketing.com.
Media Contact:
Peter Pekofsky
Top Ten Website Marketing
Phone: 305-970-5699
# # #