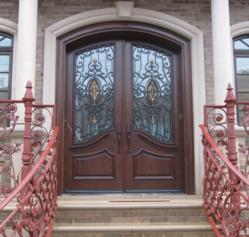 A relatively small investment upgrading the entrance can reap a larger return on investment for the property
New York, NY (PRWEB) October 10, 2011
Grand Doors recently added a new section about renovation to their website at http://www.granddoors.com. The latest section shows a slideshow of before and after pictures featuring the projects their company has recently completed. When they view these pictures, homeowners can see the difference a Grand Door makes in a home's appearance. According to Joe Klein, Grand Doors president, a distinctive front door changes the face of a house, and numerous studies show that beautiful doors raise a home's value several times the cost of the new doors, making them a wise investment. Along with providing a family with the enjoyment of owning an impressive looking home, a stunning entry can increase the asking price when the time comes to sell their home. When a homeowner decides to put a house on the market, the front door becomes very important for presenting a good first impression to prospective buyers and giving a home that all-important curb appeal.
Klein states that renovation is going strong in today's market because many homeowners are choosing to remodel their current homes and stay in them rather than buy new ones, and lots of people start by refurbishing their front entry doors. The new before and after pictures on Grand Doors website help homeowners see many different options and get new ideas about possibilities for their own renovations.
Klein says that many of their customers choose the unique style of wrought iron doors encased in wood to give their homes a regal look while others choose glass doors, which typically provide a modern touch. Wood doors always make popular entry doors as well, and they are available in a wide variety of designs and colors. Customers who do not have a definite style in mind can take advantage of the knowledge and experience of the company's professional staff and seek their advice when selecting a new door.
Whether homeowners want to refurbish their home's exterior with new entry doors that have a contemporary look, a traditional appearance, Old World authenticity or classic elegance, Klein is certain they will find a door that provides the look they are trying to achieve at Grand Doors. Even though the company supplies and installs the door frames, hardware and trim as well as the door, it takes just one day to complete a new door installation, so there is no need to disrupt the lives of a family to make this type of improvement to their home.
The Grand Doors Company specializes in high-end custom wood doors, wrought iron doors and fiberglass doors for renovations or new construction. The company has a large selection of beautifully designed doors, but if homeowners do not find exactly what they are looking for, their skilled artisans can create doors specifically to suit their customers' tastes. The company's professional craftsmen use the finest hardwoods like oak, walnut, cherry and mahogany to construct wood doors that will hold up to all kinds of weather and remain beautiful for decades. They work in a controlled environment using a special finishing process with 13 steps, superior stains, sunscreens, catalyzed sealers and coating. The process includes four steps of fine hand sanding and detailed hand rubbing to give the finish a satin feel.
Klein adds that the company has an ever-increasing number of architects, homeowners and decorators who entrust their projects to them, and their philosophy is that the customer is always above all else.
# # #