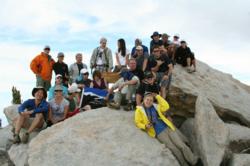 "The weather gods were kind to us this year" Daniel A. 'Danny' Bobrow, CFAC executive director
Chicago, IL (PRWEB) October 13, 2011
On Sunday, October 2 at 2:30 p.m. the Climb For A Cause Summit Team stood atop the 10,834 foot summit of San Jacinto Peak just outside Palm Springs, CA.
"The weather gods were kind to us," says Daniel A. 'Danny' Bobrow, CFAC's executive director. "We were prepared for scorching heat, but never got it. Had we climbed two days later, we'd have hit the snow line halfway up the peak, which would have made for a, shall we say, rather different experience."
This year's Event marked the single greatest one day elevation gain (10,300 feet) in the history of Climb For A Cause, and took the "Cactus To Clouds" Team 11 hours to accomplish.
But the real high point for the Event was that the Team raised over $50,000 in support of oral health education and treatment projects funded by CFAC.
"As of 2012 we will be directly responsible for funding a total of 9 clinics, three in Guatemala, two in India, three in Nepal and one in Vietnam. Without the commitment of these people, none of it would be possible," explains Bobrow, 53, of Chicago.
Next year's Event will take place over Labor Day. Those interested may contact Climb For A Cause at 312-455-9498 or Director(at)ClimbForACause(dot)org
###