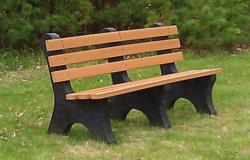 Without our parks my children wouldn't have Little League, a town pool, concerts or a playground. They are critical to the enjoyment of our life and I can't imagine what we do if our park closed down. -Laura Dudley, Rockbridge County, VA citizen
Lexington, VA (PRWEB) October 12, 2011
Economic woes are hitting close to home these days with some states stuck debating the issue of closing local parks and recreational areas simply because they can no longer afford the daily maintenance required. Other states, however, have found a more creative and sentimental way to keep their parks, recreational and outdoor entertainment areas functional for, hopefully, many years to come.
Sea Isle City in New Jersey, has followed the lead set by many other cities across the United States by creating a Park Bench Donation Program. This program allows residents the opportunity to purchase park benches and place them on park grounds in honor of lost loved ones. According to an article on http://www.emmaus.patch.com written by Margie Peterson, "the benches are an amenity for tired pedestrians, a place to stop and talk, and a classy way of reminding people that the town is a great place to be."
Programs like these generate revenue back into the parks and cities, as well as adding sentimental value to the landscape and streetscapes. Park Bench Donation Programs are designed to guarantee the eternal beauty of local recreational areas by funding the maintenance of parks and cities such as Sea Isle City, NJ.
ParknPool, located in Lexington, Virginia is a distributer of outdoor site amenities and restaurant furnishing, for both the indoors and out. They carry an extensive selection of products, including park benches.
###