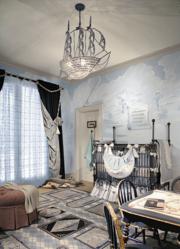 It is never too early to have a history lesson.
New York, NY (PRWEB) October 10, 2011
Just in time for Columbus Day and back-to-school time, interior designer Zoya Bograd, owner of luxury baby furniture showroom and online retailer, Rooms by Zoya B., has released a video explaining the inspiration behind her 2006 Merrywood Greenwich Showhouse benefiting The Greenwich Family YMCA, "Voyages to the New World – Johnny's Room". In addition, there will be a Columbus Day sale on RoomsByZoyaB.com.
In 2006, the Merrywood Greenwich Showhouse sought to benefit the campaign to expand and upgrade The Greenwich Family YMCA. The mission statement of the Greenwich YMCA drives home the point of "nurturing the potential of our whole family". Zoya B wishes to not only express full support of the Greenwich YMCA organization, as they provide an unparalleled environment when it comes to childcare and youth and family development, but to remind the public that education is a major part of the nurturing of the whole person – specifically the mind. "It is never too early to have a history lesson," says Bograd, when beginning to describe the inspiration behind her design of Johnny's Room. "If a child is surrounded by educational materials from the time they were born, in the nursery for example, he or she can only be better equipped when starting school and will quickly become a well-rounded person into adulthood!"
Using this core idea of education in 'Johnny's Room', three of the walls contain murals that center upon American History – the Mayflower, Amerigo Vespucci and last but not least, Christopher Columbus. Zoya explains that she wanted the walls to tell a story, give the viewer a feel of magic, and be very peaceful and dreamy, all while sticking to the nautical theme, seen in her use of color throughout, with a variety of soft blue hues.
The video tour describes inspiration for the other pieces in the room including the William Armoire from the ZoyaB Collection, Bograd's custom American-made luxury baby furniture line, and Johnny's Ship Chandelier, one of the focal points of the room. Perhaps a little known fact is that Prince William, now Duke of Cambridge, was the inspiration behind the William Armoire – furniture fit for your little prince. Zoya believes each child should feel that they have their own space that makes them feel like royalty. 'Johnny's Room' has been featured in New York Spaces and the video is available on YouTube, Vimeo, and the Rooms by ZoyaB website.
In honor of Columbus Day, Rooms by Zoya B. will be having a Columbus Day sale on the website. For more information, call (212) 726-0006 or email sales(at)roomsbyzoyab(dot)com.
About Rooms By Zoya B.
Rooms by Zoya B., founded in 1998 by Zoya Bograd, is the premier online destination for the very best in fine luxury children's furniture, fabrics, linens and accessories. For more information on Zoya's American-made collection, or for general inquiries or comments, visit RoomsByZoyaB.com, call (212) 726-0006, or visit the showroom located in the New York Design Center on Lexington Avenue.
###