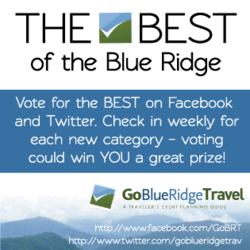 Dream it, Plan it, Do it
Winchester, Virginia (PRWEB) October 04, 2011
Go Blue Ridge Travel launches its first annual "Naming The Best of the Blue Ridge Contest" with a salute to three women who have opened businesses in the Blue Ridge Shenandoah Valley. The fact that they did this after all three left other full time careers speaks well for growing older in today's world.
Normally when one looks at retirement, one thinks of relaxing afternoons, possibly volunteering, playing bridge, tennis, or golf at one's leisure, one does not think of starting a new business. But that is exactly what three women have done in the Blue Ridge Shenandoah Valley. Not only have they started a new business, but these businesses are successful and growing and expanding despite the economy. Go Blue Ridge Travel highlights these businesses succeeding in the Blue Ridge.
Linda Neel, co-owner of Live An Artful Life Gallery has a ten year plan and then she would punch out of her steady stable IT job. A merger with a new company changed all of that and Linda suddenly found herself laid off. At first she scrambled to look for another similar job but with a severance pay she found she had a little room to think before she jumped into another stressed filled IT job. She and her husband, Tom, had talked for several years of opening a gallery again. Linda was not new to the running of a gallery since she had ran her own and also ran the GWS Galleries for the fine art publisher, The Greenwich Workshop in Connecticut. Still starting a business was a big independent step away from getting a check every week which represented stability up until the time the company sold and she lost her job.
For Linda, a project manager by trade, it became a 'no brainer.' "If I could manage Fortune 500 projects, I certainly can manage my own project. Plus, I will love doing it. Art and living a creative lifestyle is my passion," said Linda.
Live An Artful Life is in its fourth year. Located in The Plains, Virginia, the gallery is more than just wonderful artisan shopping. It is about creativity. The goal of Tom and Linda's is to help people find the creative part of their life and live it. "Here in America, we have control over our destiny! I never considered I would not make it". Owning your own business has its ups and downs. I work every day on how to make this gallery better. "The hidden secret of retail," Linda says, is to increase sales you must have inventory to sell. Too many shops have too little inventory because of what it costs to have this inventory. Owning your own business particularly a retail business is a balancing act while still having a quality of life and knocking your sells out of the park."
The second woman is Susan Dolinar, owner of Nibblins Edibles and Gifts. Like Linda, she is in business with her husband,Blair. Opening Nibblins was not a dream but a goal to have something she and her husband could do together once her husband retired from his job. "No one in their right mind would think that a retail store would be the relaxing thing to do when you retire, said Susan.
Initially the store was more of a bakery. Located in the Apple Blossom Mall, the Mall came to us and asked us to add candy, and then they asked if we would be interested in expanding into kitchen wares since there was not a store in the mall that handled these products. Susan said, "I love kitchen gadgets, love cooking so everything just fell into place and voila we were a kitchen - candy store."
Now eight years into the business, Nibblins is about to move to a new location at Rutherford Crossing on the north side of Winchester just off of Interstate 81. We are expanding our business into events and cooking classes where we can demonstrate a lot of the kitchenware we sell. Just like Linda, growing one's business is how to survive in retail. We have moved into a gift registry which is very successful for us. "People love to cook and with the economy people are staying at home more. There is really no competition to the quality of what we carry unless you drive into the city."
Finally, the last woman entrepreneur Go Blue Ridge Travel would like to spotlight is Mary June Williams, owner of Alpha Voyages Travel Agency based in Winchester, Virginia. For Mary June, she already had a successful career of thirty three years teaching pre-school severely handicapped children. However, MJ as she likes to be called started her transition from teaching to owning her own business in 1980. MJ saw retirement as travel and she realized one of the best most economical ways to travel was to be a travel agent. While still teaching, she took course work to receive the certifications she needed to open her own agency. Her motto was "Dream It,Plan It, Do It. Like Linda and Susan, she was passionate about the life she wanted in her so called "later" years.
Now thirty years later as a successful travel agency, MJ has twelve independent agents who work under her. Alpha Voyages specializes in all-inclusive properties from Sandals Resorts to Regent Seven Seas Cruises. "The all-inclusive s are stress-free vacations." MJ is the regional director for OSSN Blue Ridge Chapter of Travel Agents. "Just because you retire - has nothing to do with stopping life. It simply offers a new opportunity to pursue a new dream," says MJ.
So if retirement is just around the corner, sit up and take notice. Life is full of opportunities. With this economy and the uncertainty of Social Security and other pension programs, look at retirement as simply a chance to begin again. "Dream it, Plan it, Do it".
# # #