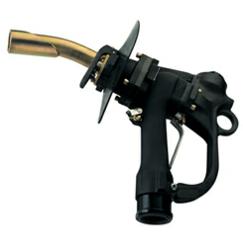 (PRWEB UK) 4 October 2011
The hot refueling of helicopters is a potentially hazardous and dangerous operation but is a necessity in time sensitive operations where it can make the difference between life and death. Developed for the UK Ministry of Defense to use in combat situations and now being specified by the US Forest Service and FAA, the G457 Helicopter Refueling Nozzle from Emco Wheaton is a proven solution which allows for fast and safe hot refueling.
Designed by Emco Wheaton, a world leader in the manufacture of auto shut off refueling systems, the G457 Helicopter Refueling Nozzle is engineered to eliminate spills and ensure that fuel cannot be accidentally delivered into the engine intake during hot refueling. Preventing costly and time consuming restarts of the engine, a key feature of the nozzle is the proximity switch which automatically stops the fuel if the nozzle is no longer aligned to the helicopter body.
During refueling, the nozzle allows the fuel operator to refuel the helicopter, while the engine is still running, without any risk of fuel being sucked in to the helicopters air intake. This feature removes the human error element and makes hot refueling more or less a 'fool proof' operation.
With an automatic shut off when the tank is full, the nozzle also features a manual override to enable the fuel operator to fill the tank to absolute maximum. The flow control mechanism is capable of handling pressures up to 110psi and can operate at temperatures as low as minus 30°C.
The reduction in turbine cold starts will give military and commercial operators a significant time and cost advantage. In the same way it has proven to be a life saver in the US Military, the US Forest Service has similar requirements when it comes to fighting forest fires as the time saving through hot refueling equates to potential lives saved.
Emco Wheaton manufactures a range of helicopter refueling nozzles for both commercial and military operations which are designed to be lightweight, comfortable to operate and rugged with many optional features. In addition we manufacture a range of hose swivels suitable for use in helicopter refueling.
For further information contact:
Magnus Staaf
Emco Wheaton Corp.
2480 Bristol Circle
Oakville, Ontario L6H 5S1
Canada
Tel: +1 905 829 8619
Fax: +1 905 829 8620
Email: magnus.staaf(at)emcowheaton(dot)com
Web: http://www.emcowheaton.com/g457.aspx
###