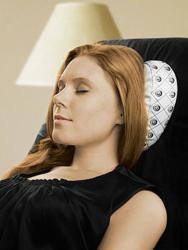 A Better Way to Relax
(PRWEB) October 10, 2011
C-Zen, Inc. announces its new website http://www.simply-my-comfort.com for online purchases for its famous C-Zen Zen Pillow™. The pillow is made from hypo-allergenic memory foam, and is great for people on the go and also for those experiencing frequent tension and neck aches. The Zen Pillow was designed specifically to promote a better way to relax.
"It is a remarkable pillow. We succeeded in designing a truly beautiful and relaxing pillow to help bring comfort and relaxation to you. The new website is just one more way that we are reaching out to those who seek tranquility and convenience at the same time," says Sohail Sherif, Vice President of C-Zen, Inc.
The Zen Pillow is very soft and lightweight—only 6.4 ounces—and is designed to fit perfectly around the user's head. It provides both neck support, and stabilizes the head with ergonomic side support functions. The pillow is perfect for traveling and relaxing, as it can be used and molded in a number of various ways at the user's convenience and imagination.
The Zen Pillow also has a built-in pocket to store an aroma pad, a note from, or a picture of a loved one. The pocket can also hold small music earphones, which accompany a compact MP3 player attachable to the Pillow's unique and stylish side loop. The high quality satin pillow cover is removable and hand washable.
The Zen Pillow is perfect for anyone; for example frequent travelers or hikers with high comfort demands and space restrictions can benefit. Its unique packaging design makes it an ideal gift for anyone seeking a better way to relax.
C-Zen, Inc. is committed to bringing its customers an interesting, high-quality product line, which is innovative, beautiful and highly comfortable for their relaxation, full enjoyment and satisfaction.
About C-Zen, Inc.
C-Zen, Inc. is located in Santa Monica, California. C-Zen, Inc. was created with a touch of Zen in mind, which promotes finding a holistic and tranquil balance in life and in one's field of being. The company is lead by a team of enthusiastic experts, namely Mr. Takafumi Eura, an acclaimed product designer from Japan and Pratt Institute of NY graduate. Operations and business matters are managed by Mr. Sohail Sherif, an avid professional Airline Transport Pilot with experience in managing high demand aviation enterprises. Together, C-Zen's executive team understands exceptionally well what comfort, safety, quality, and customer service truly mean.
For more information, visit http://www.simply-my-comfort.com.
Contact information:
Sohail Sherif, VP Marketing
C-Zen, Inc.
520 Broadway Suite 350
Santa Monica, CA 90401
Tel: 310.496.4340
# # #