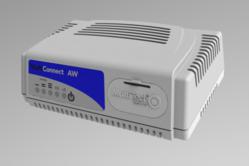 This new model was designed with the home healthcare market in mind, but it also extends the Multi-Tech product offering and allows all customers to choose the model that is right for them - Don Miller, Senior Product Manager
Minneapolis, MN (PRWEB) October 27, 2011
Multi-Tech, a world leading M2M(machine-to-machine) communications solutions provider and manufacturer of 2G and 3G cellular modems, announces a new addition to its line of analog-to-wireless converters. The MultiConnect™ AW analog-to-wireless converters offer a convenient turnkey solution that allows legacy equipment with built-in analog modems to connect to the cellular packet data or circuit switched data networks. By emulating the traditional dial-up PSTN network and using integrated or external cellular modems, the affordable MultiConnect AW converter gives new life to devices currently using traditional analog dial-up communications.
With the addition of the MT200A2W model, Multi-Tech now provides a more complete line of analog-to-wireless converters to better serve specific M2M applications and meet a full range of feature requirements. A major difference between the existing and new models is the chassis. The new model is housed in an attractive plastic chassis, which is ideal for indoor environments, while the existing model is in a rugged metal chassis for industrial applications.
"This new model was designed with the home healthcare market in mind, but it also extends the Multi-Tech product offering and allows all customers to choose the model that is right for them," said Don Miller, Senior Product Manager, Multi-Tech Systems.
More information about the MultiConnect™ AW, including an Application Note and datasheet is on the Multi-Tech website.
About Multi-Tech Systems
Multi-Tech Systems offers the industry's most comprehensive M2M (machine-to-machine) communications products and services portfolio available today. As a leader in the industry for 40 years, Multi-Tech's reputation for reliability and innovative design is evident with 80+ patents, 20+ million devices being used by thousands of customers worldwide and certifications from more than 30 carriers and over 80 countries. Multi-Tech is certified by the WBENC as a Women's Business Enterprise and by C-TPAT (Customs–Trade Partnership Against Terrorism). Visit http://www.multitech.com. Follow Multi-Tech on Twitter: twitter.com/MultiTechSys.
###