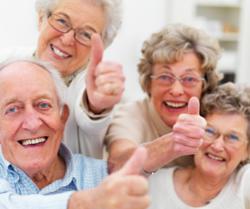 With 64 different Medicare health and drug options available in our service area, a seminar provides the perfect setting to answer questions from people with a variety of health care needs
Daytona Beach, FL (PRWEB) October 05, 2011
Medicare informational seminars will be provided by Florida Health Care Plans across East Central Florida helping seniors prepare for the 2012 Medicare Annual Election period beginning October 15, 2011 and running through December 7, 2011. The seminars will be located throughout Volusia and Flagler counties at local restaurants and FHCP facilities. Drinks and snacks will be offered at each event, and each Medicare eligible beneficiary who attends will receive a $10 gas card.
"With 64 different Medicare health and drug options available in our service area, there are many choices for the residents of our community, and a seminar provides the perfect setting to answer questions from people with a variety of health care needs," says Beau Shiflet, Medicare Seminar Instructor.
Medicare is a social health insurance program offered by the U.S. Government that is designed to help keep medical costs affordable for older Americans. There are four Medicare programs people can qualify for: Part A, B, C and D. Each has special benefits and guidelines. Part A includes hospital insurance, Part B includes medical insurance, Part C includes Medicare Advantage, and Part D includes prescription coverage.
With the upcoming election, those already enrolled in Medicare can change their Part D drug plan or Medicare Advantage plan. If they are not yet enrolled in a Part D plan or a Medicare Advantage plan, this is the only time of year for people to enroll (unless qualified for special enrollment period).
Qualified Medicare recipients include those at the age of 65 who have worked for at least 10 years in Medicare-covered employment and live in the United States. They will automatically be eligible for Part A (hospital coverage) and will need to enroll in Part B (medical coverage) if they are retired and do not have coverage under an employer. Once eligible for Parts A and B, people can also research and find Part C (Medicare Advantage) and Part D (prescription) coverage from private insurers.
For more information about FHCP's Medicare options, seminar dates, times and locations please click here.
About Florida Health Care Plans
Florida Health Care Plans is the oldest Health Maintenance Organization (HMO) in East Central Florida, and the second oldest in the United States. FHCP has been a Medicare Advantage Organization since 1981 with a Medicare contract (Part C and Part D coverage). They are a trusted member of the Volusia and Flagler communities with locations in Daytona Beach, Ormond Beach, Holly Hill, Port Orange, Edgewater, Deland, Palm Coast and Orange City. Florida Health Care Plans' goal is to positively shape the overall health and wellness of their neighbors making them their first priority.
Contact:
Florida Health Care Plans Marketing Department
386-676-7110
Bholden(at)fhcp(dot)com
H1035_A5044 CMS Approved 09/26/2011
###