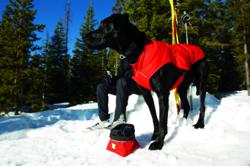 Even our four-legged friends seem to put on their puppy faces with the slightest suggestion of fresh snowfall. The cooler temps seem to amp up their activity level to the point where we can barely keep pace with them.
Bend, Ore. (PRWEB) October 04, 2011
Ruff Wear, the leading producer of high performance dog gear, unveils new products for the fall/winter season including the Omnijore Joring System, the Quinzee™ insulated dog jacket, an updated version of the popular K-9 Overcoat™, and an improved Beacon™ safety light for low-light, high-traffic activities. In addition, Ruff Wear has reworked their rubber dog toys with fresh, new, easy-to-spot colors for the Sqwash™, SquareBall™, Gourdo™ and TurnUp™.
This line of new products will be available through specialty pet and outdoor retailers as well as through http://www.ruffwear.com starting September 30, 2011.
"Even our four-legged friends seem to put on their puppy faces with the slightest suggestion of fresh snowfall. The cooler temps seem to amp up their activity level to the point where we can barely keep pace with them. And so it goes, another day of getting out with our dogs to recreate and see the winter wonderland through the enthusiasm and eyes of our dogs. These adventures continue to present great opportunities to put some of Ruff Wear's most recent product developments to the test – the new Omnijore Joring System was tested with our four legged friends in snow and non-snow environments," said Patrick Kruse, Ruff Wear's owner and founder.
Ruff Wear's new Omnijore Joring System: the talk of the trails!
According to the OIA 2010 Outdoor Recreation Participation Report, cross-country skiing is up
8 percent and skateboarding is the 3rd most frequented outdoor activity by Americans over the age of six with an average of 58 outings per skateboarder. There are approximately 4,968,000 skateboarders (9.9 percent of the population) and 457,000 cross-country skiers (1.6 percent of the population).
With the growing popularity of both cross-country skiing and skateboarding, Joring is quickly winning over outdoor enthusiasts as a great way to connect with their dogs. Ruff Wear's new Omnijore Joring System is ideal for any dog-pulling activity including, skijoring, mountainboard-joring, skatejoring, bikejoring, or canicross. Now outdoor enthusiasts and their dogs can enjoy joring all year long in any climate conditions. The canine-specific design was engineered to comfortably utilize dog pulling action. The complete joring system features a dog harness, human hipbelt, and towline.
SIZE: S, M, L (dog harness)
Suggested Retail: $149.95
Color: Red Currant
Rigorous testing was completed in a variety of snowy and dry conditions. According to one of Ruff Wear's early product testers, "Skijoring is so much fun and after skiing and racing my entire life it's great to have another sport out there that combines skiing and being able to go out with my dog."
On July 14, 2011, Ruff Wear's Omnijore Joring System won an OutDoor INDUSTRY AWARD at the 2011 European OutDoor Trade Fair. The Omnijore Joring System was recognized for its Degree of Innovation, Workmanship, Functionality, and Utility. This is the first time ever that a pet product has won in this category of the OutDoor INDUSTRY product design competition!
For more info, visit: http://www.ifdesign.de/organized_outdoor_index_e
Human technology has gone to the dogs – new and improved insulated dog jackets available this fall.
quinzee™ insulated dog jacket
This new cold-weather jacket for dogs provides weather-resistant warmth in between activities in extreme cold or inclement weather. The synthetic insulation keeps dogs warm in the coldest weather conditions. The jacket even packs into an integrated stuff sack! The Quinzee offers full cold-weather coverage for further protection against the elements, while still allowing for full range of motion.
SIZES: XXS, XS, S, M, L, XL
MSRP: $84.95
Colors: granite gray or red rock
Key features include:

Synthetic insulation contains 50% recycled polyester
Outer polyester shell contains 40% recycled material and is abrasion- and snag-resistant
3M™ Scotchlite™ reflective trim for visibility in low-light conditions
Sheltered side-release buckles for easy on/off
k-9 overcoat™
Ruff Wear's most durable dog coat has been refreshed with an enhanced and tailored fit. Along with an updated inner fleece layer, the coat features additional coverage around the neck, chest, and belly. This hard-working overcoat is perfect for any cold-weather activity whether it's hiking, trail running, walking or playing!
SIZES: XXS, XS, S, M, L, XL
MSRP: $64.95
Colors: forest green, red currant
the beacon™
Ruff Wear's popular safety light has been redesigned and updated. Advancements in LED technologies have enabled Ruff Wear to enhance the performance of the LED's durability, light output and overall function of The Beacon. Ideal for low-light and/or high-traffic activities, this safety light clips easily to all Ruff Wear wearable gear – collars, packs, apparel, life jackets, and harnesses.
Color: red currant
MSRP: $16.95
Lastly, Ruff Wear's sustainable rubber toys are now available in updated, easy-to-spot colors:
sqwash™
Color: alpenglow purple
MSRP: $11.95
turnup™
Color: fern green
MSRP: $9.95
gourdo™
Color: orange sunset
MSRP: $9.95 (S) | $11.95 (L)
squareball™
Color: blue spring
MSRP: $17.95
About Ruff Wear
Ruff Wear's mission is to build performance product to enhance and inspire outdoor adventures for dogs and their human companions. Ruff Wear encourages an active lifestyle for everyone with a four-legged friend - stay fit, healthy, and happy - on a trail run, a day hike, or multi-day backcountry adventure. Our Performance Dog Gear™ combines technology, quality, fit, function, and safety to meet the needs of active and adventurous canines and their humans.
Ruff Wear is committed to preserving open lands and waterways, providing important habitat for wildlife and recreational opportunities for humans and canines. Ruff Wear partners with The Conservation Alliance to protect these special places so important to us. Additionally, Ruff Wear works with regional grass roots organizations, giving back to the community, and creating opportunities to strengthen the bond between humans and their dogs.
Ruff Wear was named to Outside magazine's (http://www.outsideonline.com/) third annual "Best Places to Work" list in April 2010.
In addition, Ruff Wear was recognized as a "100 Best Green Companies to Work For in Oregon" by Oregon Business Magazine in June 2009.
Based in Bend, Oregon, Ruff Wear sells their products through specialty pet and outdoor retailers as well as http://www.ruffwear.com. Find Ruff Wear on Facebook, http://www.facebook.com/ruffwear and on their Dog Blog, http://dogblog.ruffwear.net, and on Twitter, http://twitter.com/ruffwearinc.
###