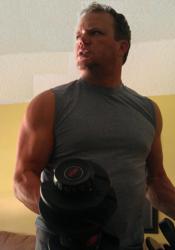 "I was tired of being tired and living my life between naps. Once the testosterone injections started I could not believe the difference.
Orlando, Florida (PRWEB) October 19, 2011
Chronic fatigue brought on by low testosterone is a condition Leary once lived with and accepted as simply age. A consistent problem that plagued him for over a decade, Leary says he was so relieved when the urologist told him his testosterone levels were far too low. "I finally had an explanation and the doctor was very direct about it," Leary says. "He told me if I wanted a much higher quality of life then I needed an intramuscular injection of testosterone every three weeks."
And a higher quality life is exactly what Leary is getting. Now a rabid cycler and P90X enthusiast, he dropped fat that had been loitering on him for years and gained 22 pounds in muscle after 15 months on P90X.
"The decision to return to school came quickly once I was healthy," he says. He spent almost 2 years at the University of Central Florida earning the MBA. It is his forth degree and second Masters. When it comes to writing, testosterone makes his mind much more agile, he says. "I wrote some of the most intense scenes in The Angel Hunter after I started the injections."
The MBA gives Leary more information to draw from as he creates the world of his heroine, Victoria Hunter. She is a highly intelligent woman and became a CEO at the age of 26. "I intend to write a prequel to The Angel Hunter eventually. This will be the story of how Victoria Hunter took a failing company and built a healthy and profitable organization. The MBA will be invaluable for that book."
###