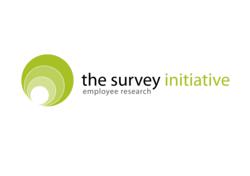 So far this year, 90% have reported feeling positive working for their employer, while 91% are confident of a good future.
London, UK (PRWEB UK) 14 October 2011
The Survey Initiative, one of the leading UK employee engagement specialists, has analysed the findings of three years' worth of employee engagement surveys – with unexpected results.
The researchers decided to investigate The Survey Initiative's normative database to understand the correlation between workplace resources (people, equipment and so on) and the pressure staff experience in their roles.
They worked on the assumption (derived from Maslow's hierarchy of needs) that employees who lacked basic elements in their day-to-day roles would be harder to engage – and keep engaged.
Focusing on common survey questions between 2009-2011 regarding resources, pressure and employee engagement, the researchers found:

A 7% point drop in employees who felt they had adequate resources to do their job;
A 5% point drop in the number of employees comfortable with the pressures placed on them;
A significant rise in the number of employees who are positive about working for their organisation.
The cuts in resources and increases in employee pressure can mostly be attributed to the economic downturn. In such a context, one would expect to see a dip in employee engagement – and that's exactly what happened between 2009 and 2010.
For example, 75% felt positive about working for their employer in 2010, compared to 89% in 2009. 84% were confident they had a good future in 2009, dropping to 79% in 2010.
But the pendulum swung the other way in 2011. So far this year, 90% have reported feeling positive working for their employer, while 91% are confident of a good future.
The data suggests dips in employee engagement that occur as a result of a reduction in resources or an increase in pressure can be turned round – resulting in higher employee satisfaction than before. This is heartening news for business owners and managers alike.
But why is it happening?
When The Survey Initiative reviewed the data with its clients, there was one common thread – increases in employee engagement went hand-in-hand with changes in management style. So, while employees needed to do more with less, they also became more involved with decision-making processes and more empowered to take control of their work outcomes.
So the message is clear – if you need to cut back, use employee-focused management techniques to bring staff along with you, and then assess progress regularly with employee engagement surveys.
After all – cutbacks are dangerous territory, and if demands on staff get too intensive you run the risk of employee burnout. By that point you won't need a survey, but you may well end up fighting for the life of your organisation.
About The Survey Initiative
The Survey Initiative was founded in 2006 to deliver high quality, valid and effective employee survey solutions. Its unique approach to conducting employee surveys is founded on 15 years of experience. For further information about employee engagement surveys or employee research visit http://www.surveyinitiative.co.uk or contact Gary Cattermole on +44 (0) 1255 850051.
###