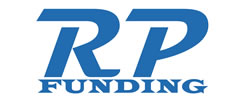 We are committed to getting the best possible mortgage pricing and fastest service for move up and first time home buyers.
Orlando, FL (PRWEB) October 28, 2011
RP Funding, Orlando's "No Fee" Direct Mortgage Lender, has been named the exclusive Diamond Partner by the Orlando Regional REALTOR® Association (ORRA).
The Diamond Partnership and the new Diamond Priority Program were formulated from scratch by RP Funding founder Robert Palmer. Palmer wanted to go above and beyond any other ORRA partnership to show his commitment to real estate agents during these challenging times.
This sponsorship and the program means ORRA member REALTORS® get special treatment, extra fast service, money-saving marketing support and ideas from RP Funding.
"We are committed to getting the best possible mortgage pricing and fastest service for move up and first time home buyers,'' said Palmer, President of RP Funding. "We know top REALTORS are also devoted to closing deals as quickly and efficiently as possible. We are dedicated to creating savings for home buyers and quicker closings for hard-working REALTORS.''
The new Diamond Priority Program for ORRA REALTORS® includes:

Priority underwriting, processing and closing – Diamond Priority files go to the front of the line
Dedicated team of loan officers
$1,000 best deal guarantee
Easy on time closing (including FHA loans)
HUD-1's 4 days prior to closing
Free access to seminars on hot topics like internet marketing, short sales and social media
Joint marketing opportunities – work with RP Funding to improve marketing and secure more clients
"RP Funding has taken a real leadership position in assisting ORRA members through the creation of its Diamond Priority Program. RP Funding understands that Orlando's market has enough challenges without adding on unneeded costs or delays to the mortgage process,'' said ORRA Chairman of the Board Mike McGraw, McGraw Real Estate Services, PL. "The Diamond Priority Program demonstrates RP Funding's commitment to the success of ORRA members, and I am pleased to have RP Funding aboard as ORRA's exclusive Diamond Partner.''
About RP Funding: RP Funding is a licensed Florida Mortgage Lender with offices in Maitland, Florida. As a direct lender, RP Funding underwrites, closes and funds its own loans in order to offer customers the best rates and highest level of service. Unlike banks and mortgage brokers, RP Funding offers "wholesale" mortgage rates directly to consumers to save them money. The only fee that RP Funding customers pay is when they choose to buy down to a lower interest rate through a rate discount cost. For more information, please visit http://www.rpfunding.com/.
###