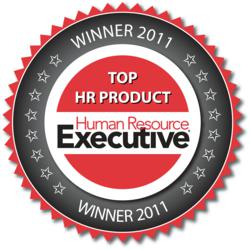 Detroit, MI (PRWEB) October 04, 2011
Since 1999, nowHIRE has been a premier provider of applicant tracking systems and I-9 compliance solutions for companies of every size within diverse vertical markets, clients include: Milwaukee Brewers, PEP Boys, Newsweek, PSA Healthcare, Fikes, Pet Supplies Plus, Bristol Farms and numerous others. Now, nowHIRE has been recognized as an industry leader in archived form I-9 compliance audit and conversion, having been named a winner of the 2011 Top HR Product of the Year by Human Resource Executive® for its Archived I-9 Comply – Audit & Conversion System.
The award was officially announced in the October 2, 2011 issue of Human Resource Executive® and presented to nowHIRE at the magazine's HR Technology conference luncheon held on October 3, 2011 in Las Vegas.
Human Resource Executive® was established in 1987 and continues today as the premier publication focused on strategic issues in HR. The magazine provides readers with news, profiles of HR visionaries and success stories of human resource innovators.
"When a professional company like Human Resource Executive® honors you, it really validates your company and puts you head and shoulders over the competition," said Joseph N. Impastato II, the CEO of nowHIRE. "No one has a system out there that even comes close to what we do."
For more information on nowHIRE's award-winning Archived I-9 Comply – Audit & Conversion System, please visit http://www.nowhire.com
About nowHIRE.com:
nowHIRE's form I-9 compliance technologies ensure that a company's current and future I-9 forms are accurate and compliant, helping to avoid potentially costly mistakes. Currently, 35-55% of all I-9s contain incorrect or missing information, resulting in fines ranging from $110 to $1,100 per violation. nowHIRE's I-9 solutions eliminate the element of human error and ensure 99.9% accuracy.
###