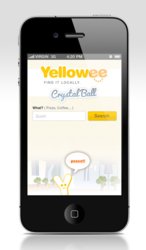 We are delighted to be releasing the Yellowee iPhone app. It comes at a time when our users are requesting local information access while they are mobile." Barbara Manning, CEO GenieKnows Inc.
Halifax, Nova Scotia (PRWEB) October 13, 2011
GenieKnows Inc. is excited to unveil its new Yellowee app for the iPhone. Utilizing the iPhones' GPS technology, the new app makes mobile local search effortless. Already a top online destination for local information, Yellowee.com's app means users can now find whatever they need, wherever they are, right when they need it.
By entering a keyword, business name or category and spinning the soon-to-be-famous Yellowee Crystal Ball, users find their fortune from among 15 million businesses across Canada and the US. Yellowee.com gives users exact addresses and displays a map, directing people right to the door of whatever they're looking for.
Long famed for their ability to help users access local services and businesses, the app fills an obvious void. Now people won't be out of luck if they forget to search before they leave home. The Yellowee iPhone app is perfect for people on the go.
The Yellowee iPhone local search app is now available at the Apple app store as a free download.
Follow Yellowee on Twitter and Facebook.
About Yellowee.com
Yellowee.com is a premier local search engine, utilizing a proprietary information gathering method. Searchers get more accurate, complete and relevant results displayed in a simplified, attractive page with minimal distractions. Sign up and write reviews to help others enjoy great places in the neighborhood. Businesses can sign up for display accounts to enhance their Yellowee.com placement.
About GenieKnows Media
GenieKnows is the parent company of Yellowee.com and other great online advertising solutions. Based in Halifax, Nova Scotia, they have a proven ability to attract the kind of high quality Internet traffic advertisers need to thrive in the digital economy. The GenieKnows publishing network includes an array of websites such as BellAliant.net, SportNovaScotia.ca, myticketpick.com; gkmen.com, yellowee.com, gkhealth.com and gklife.com.
###