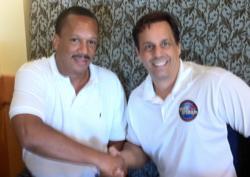 Boca Raton, Florida (PRWEB) October 03, 2011
As of August 15th 2011, automotive franchise, Tint World®, has made plans for expansion into West Palm Beach, FL after a new multi-store franchise was awarded to included three new franchise store licenses. The licenses were purchased by Florida native, Cary Lopez, who had tracked Tint World®'s expansion in Florida and decided to learn more about the opportunities it offered.
After contacting Tint World® representatives and touring the business during a Tint World® Discovery Day, Lopez had a meeting with franchise president, Charles Bonfiglio, during which he reviewed the details of the franchise program and signed the necessary paperwork for license ownership of three new Tint World® automotive franchise store locations in the West Palm Beach, FL area.
Lopez was previously a general contractor in the construction business, but when business made a downturn due to a suffering economy, he started exploring franchise opportunities. Lopez was attracted to the Tint World® window tint and automotive accessory franchise because of an interest in vehicle enhancement, and for the rapid growth he had seen both in Florida, and nation-wide.
"Cary is sure to be a strong member of the Tint World® team," explained Tint World® president, Charles Bonfiglio, adding, "His background in the construction industry has given him more than enough management experience to achieve great success with the Tint World® system, and his knowledge of the Florida market will also make him a valuable new member to the Tint World® team. You really have to know how to get the job done, and Cary has already proven success in this in a very difficult industry."
By continuing to attract passionate and business-savvy franchise owners, like Lopez, the business expects to see increased sales, expansion and further establishment of Tint World® as the premier window tinting and automotive accessories franchise in the US. Tint World will host the grand opening of Lopez's first store next month. With his contractor experience, Lopez is taking an active role in the remodeling of his first Tint World store, which will be 6,000 square feet and will include 6 service bays along with full interactive product displays.
Customers are welcome and encouraged to attend the grand opening event which will take place in mid to late November.
About Tint World®
Established 1982 in Tamarac, Florida, Tint World® is now the leading franchised provider of automotive, residential, commercial, and marine window tinting and security film services in the US. Tint World® Automotive Franchise also offers auto security, mobile electronics, performance and styling accessories, custom wheels and tire packages, auto detailing, and reconditioning services.
###