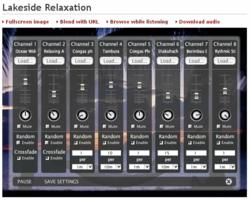 We are surprised of what kind of audio atmospheres our users can create with our online ambient mixer.
(PRWEB) October 04, 2011
Enter a world of wild and beautiful nature, fantasy, science fiction, thrill, horror, adventure or even meditation, with ambient-mixer.com, made by the developers at Inqovalea. Ambient-mixer is the free, online website hosting multiple scenic atmospheres with quality audio and features that provide users with tools to create their own relaxing experience, or a creative mix of new sound ideologies.
"Developing and working on this project has made me realize how many ways this project might be used for, besides just listening to and creating relaxing sounds," says founder Jens Bierkandt. "The amount of possibilities these ambiances can be used in such as home relaxation, background sound for filmmakers, spas and homemade movies, or a personal creative mix, are limitless," he adds. "It's really fun to play with the tool, and whenever one of our users has created something you never thought of, like Lullaby music or a flowstone cave sound, we are amazed of the possible creativeness."
Each atmosphere consists of different single sounds, or audio files, that have been mixed with their online application to create some sort of atmosphere. Users may listen to premade atmospheres, or they may upload their own audio files to create a personal montage of sounds and share it as their own unique atmosphere with other users.
Key features on each audio template include:

Listen online to high quality audio atmospheres.
Change atmospheres with unique eight channel online audio mixer.
Random feature that lets you play sounds of one channel at random times.
The sound of waves with a gentle ocean breeze may be just the thing to put people in a relaxing mood. Or maybe the sound of rain can put people to sleep. Ambient-mixer hosts multiple categories ranging from environments and nature, to home and office background noise that users can explore to find the atmosphere that invokes warm memories or a much needed state of ambiance. And just in time for Halloween, all sorts of unreal atmospheres, from haunted castles to zombie apocalypse, are the perfect backdrop for any costume party or horror film. Just browse the horror audio category to find your Halloween sound .
Ambient-mixer.com is completely free thanks to the Creative Commons Sampling Plus 1.0. All audio files uploaded under the license allow every user to share audio files for free, so long as they give attribution to the authors of the single audio files and the author of the audio template.
About Inqovalea
Inqovalea is an Internet company dedicated to web based software solutions. With several SaaS projects in its portfolio, they have a broad bandwidth of online applications. Specializing in cloud based development helps their customers to get scalable and reliable results under high traffic load. Web performance and Internet security are also a topic the founder has given several talks about on conferences.
Contact:
Inqovalea
Jens Bierkandt
press(at)ambient-mixer(dot)com
+49 6894 9491970
###