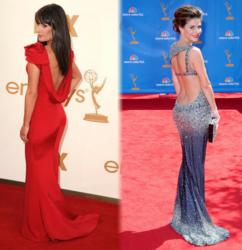 Having a beautiful back goes hand in hand with having a strong, healthy back.
New York, NY (PRWEB) October 11, 2011
From the Grammy's to the Oscars to last month's Emmy Awards, it's those plunging back lines that have taken center stage on the red carpet this year. So what's driving the back front and center? And just how does one get that red-carpet-worthy back? THE FLUIDITY BAR® (http://www.fluidity.com) - a classic ballet tool reinvented for a totally modern workout, develops whole body muscle balance and fluidity along the front AND back of the body delivering both beauty and functional benefits that extend well beyond looking fabulous on the red carpet.
As it turns out, the much admired lumbar curve that's inspiring red carpet fashion (also the inspiration behind Alexander McQueen's famous "bumster" silhouette) is key to a woman's health and wellness. According to Physiologist Jim Warren, in order to have a strong and healthy back, we need a balance of strength between the front (anterior) and back (posterior) sides of our body; it's this balance that creates the lumbar curve in the lower back.
Unfortunately, our modern lifestyle wreaks havoc on that anterior posterior balance. We sit in our car, at our desk, or in front of a computer or television for hours on end. When we sit down, we literally disengage hundreds of muscles along the back line of our body. Furthermore, these activities bend us forward at the waist extending (or lengthening) our back line and contracting (or strengthening) the front line rendering our back line overstretched and weakened and our front line contracted and dominant. Making matters worse, we head to the gym and work out what we see in the mirror further strengthening the front of our body and creating greater imbalance.
Not surprisingly, back pain (estimated to affect 1 in 4 people and the leading cause of disability in the U.S.) is most often attributable to a lack of strength or muscularity in the back line of the body. In fact, 90% of all dysfunction in the human body results from weakness in the back line. According to Warren, when a woman doesn't properly strengthen the back of her body, "gravity takes over, the body falls out of alignment, and as a result, back pain sets in, you can no longer work out, and you then become prone to osteoporosis and other ailments that decrease your longevity."
So what's a girl to do? According to Fluidity Founder Michelle Austin, the key is to strengthen the back line of the body. Austin's FLUIDITY BAR®(http://www.fluidity.com) - a classic ballet tool reinvented for a totally modern workout, allows you to stand up and extend back to get into all of the large and small muscles in the back, seat and legs. Fluidity's integrated movement - performed in a neutral pelvis position, forces your body to recruit the muscles it functionally needs rather than those you choose to engage. This type of whole-body muscle recruitment forces your weakest muscles – i.e. typically those in your back line, to become stronger, and your dominant muscles along the front line to become more proportionate. The result is whole-body muscle balance and fluidity from head to toe, front AND back. Viola! If the red carpet is any indication, that sexy lumbar curve in the lower back – the ultimate symbol of function and beauty - is here to stay.
Fluidity, http://www.fluidity.com - founded by former Lotte Berk Instructor Michelle Austin, originated as a popular group exercise class in the New York City gym market in 1999 where the method's ability to develop its trademark Fluidity body – long, lean and supple, "a dancer's body", garnered an intensely loyal following. Success enabled the company to launch its patented Fluidity Bar home unit and Fluidity DVD workouts through a nationally televised infomercial in 2005. Fluidity classes featuring the Company's dual-user Fluidity Bar - designed exclusively for commercial use, and Fluidity Instructor Certification Program, are slated for a national launch to gyms and spas in 2012.
###