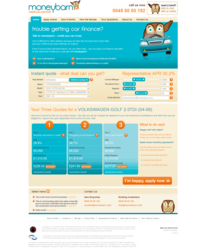 This car finance calculator removes the element of uncertainty for our customers who can budget and apply based on real figures and not guesswork.
Petersfield, Hampshire (PRWEB UK) 4 October 2011
moneybarn, the UK's leading non prime car finance company have today unveiled the first ever car finance calculator for customers with bad or poor credit - with just the car registration number and a few details around purchase price and mileage, visitors to moneybarn's website can get an instant car finance quote for a range of credit profiles. Car finance with bad credit has been made simpler and quicker with this new initiative from moneybarn.
More than just a loan calculator, the moneybarn application allows users to get prices for specific cars and specific credit profiles. Uniquely, the car finance calculator uses a vehicle look up facility enabling accurate car finance quotes to be generated in less than ten seconds. This means that users can enter just a registration number, the sale price and information about the car's mileage and deposit contribution and be presented with three prices representing different credit profiles.
The prices that are generated by the moneybarn calculator are tiered into three levels according to the users' credit profile, ranging from a near prime applicant who has minor adverse credit history, to consumers who have perhaps had CCJs or defaults, right the way through to those who have been through an IVA.
Commenting on the new car finance calculator, Peter Minter, Managing Director at moneybarn said, "This is unique within the non prime market - a quick, easy to use and accurate financial illustrator for customers who may have been refused car credit elsewhere. In terms of technology, it's also a step change for the motor finance industry - the calculator draws on industry data and our own internal modelling to provide accurate prices. This removes the element of uncertainty for our customers who can budget and apply for car finance based on real figures and not guesswork."
The bad credit car finance calculator allows users to customise their quotes by varying deposit amounts, the length of agreement and type of car before generating the three illustrations that can then be emailed to the user for future reference or for the user to make a finance application.
Finance applications are also streamlined as a result of this new car finance calculator. Once the user is happy with the prices presented to them, they can then complete an online application in less than two minutes and be given a provisional answer within 5 minutes of the application being received by the moneybarn team.
About moneybarn
moneybarn creates more opportunities for more consumers to finance the purchase of cars with a responsible, ethical and inclusive approach to car finance. With over 20 years experience of working with customers with unusual and non conforming backgrounds who may have experienced difficulties obtaining credit elsewhere, moneybarn is the UK's leading specialist car finance provider. More information can be found at http://www.moneybarn.com
###