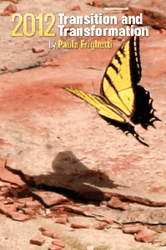 '2012: Transition and Transformation' is a fascinating source of information about the changes that are already under way as well as the potential in the dawning of a new era.
Tucson, AZ (PRWEB) October 04, 2011
Many people are curious about the date Dec. 21, 2012 – the Mayan calendar ends on this date, and the Maya as well as other indigenous cultures believed this period will usher in a new era of great change for all of humanity. This new book explores the topic thoroughly. The Maya and their long-count calendar have long been a source of speculation for scholars intrigued by the prophecies that have survived the centuries, but what do these prophecies mean? How do the Mayan ideas about time and the planetary cycles affect our thinking about what is to come?
Through folk tales, myth, history, and astronomy, author Paula Frighetti makes the prophecies that foretell the changes brought on by 2012 more accessible than ever. In addition to the Maya, Frighetti also addresses prophecies by the Hopi and the Sicilian prophet Joachim. Western astrology and spirituality regarding the coming era are also discussed, including the ways that the ancients have predicted the changes through the shifting of the cosmos.
2012: Transition and Transformation is a fascinating source of information about the changes that are already under way as well as the potential in the dawning of a new era. Author Paula Frighetti is, in her own words, "a member of humanity during a time of great chaos and transition. [She has] a great love for our planet Earth and the plants, animals and people who inhabit it." Frighetti's interest in 2012 led her to the research from which this book was born, and she believes that "The message of 2012 isn't about stockpiling or trying to hold on to the material goods we have. It is about remembering the cycles that drive our connection to each other and the universe."
For more information, visit http://www.2012TransitionandTransformation.com
2012: TRANSITION AND TRANSFORMATION
Paula Frighetti
Dog Ear Publishing
ISBN: 978-145750-427-3 78 pages $12.95 US
Available at Ingram, Amazon.com, Barnes & Noble
and fine bookstores everywhere
About Dog Ear Publishing, LLC Dog Ear Publishing offers completely customized self-publishing services for independent authors. We provide cost-effective, fast, and highly profitable services to publish and distribute independently published books. Our book publishing and distribution services reach worldwide. Dog Ear authors retain all rights and complete creative control throughout the entire self-publishing process. Self-publishing services are available globally at http://www.dogearpublishing.net and from our offices in Indianapolis, Indiana.
Dog Ear Publishing – self-publishing that actually makes sense.
###