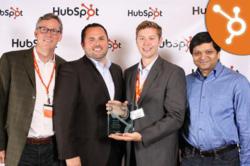 Inbound marketing helps us cost effectively reach the very large and geographically dispersed insurance market.
- Craig Rowe, CEO
(PRWEB) October 14, 2011
Risk management applications provider, ClearRisk, was recently awarded the Hubspot Inbound Marketing Success Story of the Year Award at the 2011 Hubspot User Group Summit (HUGS). ClearRisk CEO, Craig Rowe, and VP of Marketing, Chris Gardner, accepted the award which highlights marketing success stories achieved through the use of inbound marketing techniques.
ClearRisk is a provider of risk management applications for the insurance industry. Based out of St. John's, Newfoundland ClearRisk has been able to penetrate global markets through social media, blogging and search engine optimization despite not being in one of the conventional business hubs.
Hubspot helps companies maximize the impact of inbound marketing through their online platform. Through their dedicated use of inbound marketing, ClearRisk was able to increase website visitation by 1000%, provide a strong flow of sales leads, and become ranked in the 10 Ten Most Read risk management blogs by the leading magazine for the risk industry. Inbound marketing helped place ClearRisk on the map in the risk and insurance industry, which has resulted in a significant increase in sales.
Visit http://www.clearrisk.com for more information about ClearRisk and their risk management applications.
###