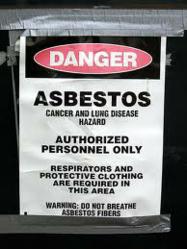 "Mesothelioma is a heartbreaking disease...we are dedicated to helping spread the word of any new developments which may lead to earlier diagnosis and better prognosis."
(PRWEB) October 03, 2011
A recent study published in Nature Genetics shows that people with a hereditary mutation in gene BAP1 run a higher risk of developing mesothelioma, a rare and aggressive form of cancer due to exposure to asbestos. Doctors from the University of Hawaii Cancer Center in Honolulu and Fox Chase Cancer Center in Philadelphia focused their research around two families from the United States that had unusually high rates of mesothelioma, and found BAP1 mutations to be a significant factor in cancer development. The short video included here is of Dr. Michele Carbone explaining more about how people with this genetic mutation are more susceptible to developing mesothelioma and other types of cancer in the video.
Mesothelioma is primarily linked with exposure to asbestos, a naturally occurring mineral that was once added to thousands of building and industrial products in the United States before becoming highly regulated due to its carcinogenic properties. In the United States alone, about 3000 people per year are diagnosed with this incurable form of cancer. Standard methods of treatment have not been found to be very effective and survival rates are very low.
Clapper Patti Schweizer & Mason represents clients who have been diagnosed with this rare disease because it could have been easily prevented. Manufacturers of asbestos containing products knew for decades that exposure to asbestos caused serious and fatal illnesses and yet they failed to give warnings, protection or training, therefore they are held responsible for injuries incurred.
Jack Clapper is the founding attorney at CPSM and has dedicated his practice to helping those injured by asbestos. He says, "Mesothelioma is a heartbreaking disease- for the one who has it as well as for family members and loved ones. To date, there is no cure. Having watched clients suffer due to this avoidable illness, we are dedicated to helping spread the word of any new developments which may lead to earlier diagnosis and better prognosis."
Now with the discovery of the BAP1 gene mutation, perhaps those with known asbestos exposure history can be screened and the cancer can be prevented or diagnosed at earlier stages, improving chances of longer survival. The hope is that better understanding of the biological mechanisms that lead to mesothelioma tumors will allow earlier discovery of the malignancy among those most at risk.
To find out more about the results from this study, read more through the National Institute of Health or the National Cancer Institute. To keep up to date with latest treatments for mesothelioma, visit our treatment page.
About Clapper Patti Schweizer & Mason
We are a law firm that specializes in asbestos and mesothelioma lawsuits, with over 30 years experience achieving the best results for our clients and millions of dollars in settlements. We offer the highest degree of personal service and are committed to doing all we can for the well-being of our clients and their families. Our greatest hope is that one day a cure for mesothelioma will be discovered.
Media contact:
Sally Clapper
Clapper, Patti, Schweizer & Mason
1-800-440-4262
sally(at)clapperlaw(dot)com
# # #