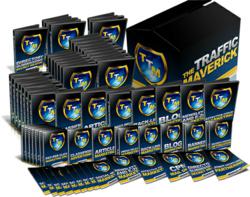 Affiliate Marketing Is A Breeze When Done Like A Maverick
New York, NY (PRWEB) October 10, 2011
The Traffic Maverick is a highly informative video based training module that provides useful suggestion for the implementation and execution of an affiliate marketing project. The company has just introduced an improved member's area in their website.
The existing members of the program have been anticipating this announcement since a long time. Speaking on the occasion, the author and owner of the program Mr. Michael Bashi stated that this change has been highly appreciated by the members.
The Traffic Maverick tutorials cover all relevant information pertaining to a successful affiliate marketing project. The website always had an interactive member area for the members. According to Mr. Bashi, the objective behind the introduction of this new membership area is to make it easier to follow and implement.
He also added that this restructuring does not involve any changes in the videos or the teaching methods of "The Traffic Maverick". The company understood that there was a need to simplify the entire section to make it more appealing to the customers. The owner has also appealed to the members to share their ideas and suggestions to improve the overall customer experience.
The new membership area has two different sections for affiliate business and website building. Each of these sections will now have an option for step wise selection of videos. This system will make it much easier for the users to navigate the areas of their interest.
Michael Bashi also added that this section would soon have a page dedicated to the frequently asked questions. The users can also contact the company through the support ticket system. This new launch has been welcomed by the members and some of them have already expressed that this new member area is much easier to follow. The company has many more such plans to enhance the learning experience of the aspiring affiliate marketers, according to company sources.
About The Traffic Maverick: The Traffic Maverick is video based training module to maximize the profitability of an affiliate marketing business. Michael Bashi is the author of this highly informative course content. The fourteen module video program is available for $197 only. Please visit http://www.http://www.thetrafficmaverick/blog to know more about this course.
Contact: Michael Bashi
Windsor Ontario N9E 1S3, Canada
###