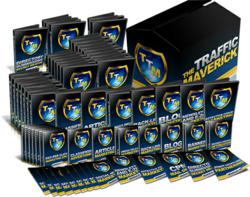 Website Traffic Is A Breeze When Done Like A Maverick
Ontario Oct 9/2011 (PRWEB) October 09, 2011
Mr. Michael Bashi is the developer of the web based tutorial named "The Traffic Maverick". The company looks all set to make further progress in their field by the addition of the new module on Banner Marketing. This new tutorial will discuss simple ways to start a successful banner marketing project by increasing website traffic.
This online training program is one of the leading low cost training programs for a successful website marketing project. The course also covers topics like starting a website, generating traffic for it, use of press releases, forums etc, and many more.
Banner marketing is a very effective way to generate website traffic for any site. According to Michael Bashi, the placement of banners is the most important aspect of Banner Marketing. A banner is totally useless unless it is viewed by the target audience.
Therefore, the first thing to do is to find a suitable website that is relevant to the specific type of business, opines Mr. Bashi.Banner marketing can very efficiently capitalize the trust that the customers have on that particular website. These websites have already done the hard work, and the customers trust these websites. A properly executed banner marketing plan can use this trust to ensure amazing business conversion. The placement of the banners is also critical to the success of banner marketing. The ones at the top and side of the page generally get more exposure than those at the bottom.
The design and sizing are the next two most important things in order to attract website traffic. The most important part of designing a banner is the selection of font color. The font should be selected according to the background color so that the letters stand out and easily catch the eyes of the visitor.
The font size should also be selected very carefully. Most of the websites have a fixed banner size. Shorter messages on the side banner catch the eyes more easily and frequently than the longer ones.
Michael Bashi considers placement, design, and size as the one, two, and three of a successful banner marketing plan. He also states that banner marketing can achieve instant results by generating website traffic, and can lead to repeat business as well.
One must find out the proper keywords for the banners and the best color pattern before executing the program. These factors depend on the nature of business.
About The Traffic Maverick: The Traffic Maverick is an online learning program to master the tricks of website marketing. The program consists of 14 video modules packed with interesting information relating to this topic.
It has been created by Ontario based internet marketer Mr. Michael Bashi. For more information please visit http://www.http://www.thetrafficmaverick.blog .
Contact: Michael Bashi
Ontario, Canada
Zip Code: N9E 1S3
###