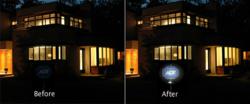 $1 A Day Keeps An Intruder Away
New York, NY (PRWEB) October 06, 2011
Home security systems have been known to repel, and threat burglars through a single sound. These alarms tell home owners that an intruder is attempting to enter their premises. Your Alarm Now introduces a new part of their alarm systems which would threat burglars not by making a sound, but by making them see a warning.
The new addition is called the Solar Yard Sign. It was done since the majority of the Burglars would choose to go inside a house without any threat.
A house within a neighborhood, which is known not to have an alarm system, will surely be the burglar's first choice, since they would not want to get caught. These people would want to protect themselves and make sure they get inside to be able to do what they need to do in the easiest possible way.
A bachelor lives in a village, where some residents own alarm systems, while some do not. Burglars enter their village occasionally, and he witnessed most of them, since he was at home almost all the time.
He strolled around their village one afternoon, when he saw two people roaming around the area, as if they were surveying the houses. He did not mind the two, thinking they were just residents walking around. The bachelor went back home, ate dinner, took a shower, and watched the television. It was nearly midnight, and he was still awake.
He noticed two people standing outside the house beside his home, acting as if they were planning to do something. Minutes later they were gone. Just before he went to bed he once again noticed the same people standing outside the house in front of his home, just as he thought the two were burglars trying to get inside the house. He went outside to try to stop the intruders and to alarm the residents, when the house's home alarm system was triggered.
The burglars have been trapped by all the other residents who were alarmed, and the police came just minutes later. Upon investigation, the cops asked the bachelor to give a statement, which he did. He learned that the intruders originally planned to go inside the house beside his home, but they later decided to choose another victim, since there was a yard sign outside the home implying that the house was protected with home security systems. Fortunately, nobody was hurt in the incident and nothing was stolen inside the victim's house.
Your Alarm now is an ADT authorized dealer who has been serving to protect families in CANADA and USA.
To learn more about Your Alarm Now and their services, visit them at http://www.youralarmnow.com/ or call 1-800-599-8452.
###