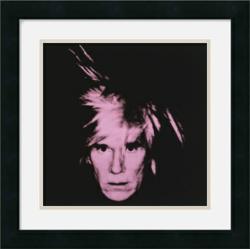 Warhol is very popular and continues to be an incredible influence on American art and culture and his art continues to speak to people
Madison, Wisconsin (PRWEB) October 05, 2011
Amanti Art, a Wisconsin-based wholesale art and framing company, has announced the availability of Andy Warhol's prints and posters for sale on its website.
Amanti Art allows customers to custom frame prints and posters using the Amanti Art Online Frameshop. The company's website is an industry leader in innovation and offers powerful tools to customize the frame design, allowing customer to choose from an impressive collection of mats and frames, adjust the size and attributes of the matting, and even crop the print or poster to a desired size or orientation. Every print is also offered in Designer Recommended versions for customers who do not want to do their own styling.
Over 300 Warhol prints and posters are available on the site representing his entire career. From the early 1950's until 1987, the year he died, Warhol was notorious for his plentiful production. Amanti Art's collection reflects the duration and variety in Warhol's work. From the 1954 series "25 Cats Named Sam and One Blue Pussy" to the portraits of Beethoven created in 1987, and everything in between, the company allows customers to select prints based on size, orientation and subject matter.
"With the inclusion of Andy Warhol framed art we are simply trying to serve our customers. Warhol is very popular and continues to be an incredible influence on American art and culture and his art continues to speak to people" said John Cioci, an Amanti Art manager. "I don't think anyone represents modern American culture better than Warhol, he's ironic and sarcastic but still cares about content, context and beauty. I can't think of another artist who could make people want to hang a picture of a can of soup on the wall."
"The Amanti Art Online Frameshop allows customers to frame Warhol to fit their home or office. Some of our customers probably use to have posters thumb-tacked to the wall of their dorm room or apartment; we're just giving people a way of bringing him back into their lives that fits where they live now.
In addition to Warhol, Amanti Art offers art by over 3,000 artists: Ansel Adams, Georgia O'Keeffe, Vincent van Gogh and Claude Monet among many, many others.
###