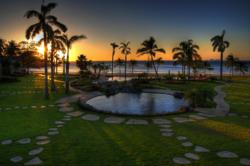 Guanacaste, Costa Rica (PRWEB) October 04, 2011
The Palms Private Residence Club and the Guanacaste region continues to offer new opportunities to owners and potential buyers making it an ideal second home destination. The Palms' proximity to Liberia International Airport, located in the capital of Guanacaste, makes traveling to the pristine destination easy and convenient. The Liberia International Airport is slated to complete its $30 million expansion November 2011. Delta and Jet Blue Airlines have added new direct flights to the Liberia International Airport. Beginning in January 2012, Delta Airlines will have a nonstop flight once a week from Minneapolis-St. Paul International Airport to Liberia. Starting in November, Jet Blue will offer four weekly direct flights from John F. Kennedy in New York to the Liberia International Airport.
Direct flights from the U.S., U.K., Canada and Europe have put Guanacaste on the map and have helped it to become a major vacation and second home destination. Guanacaste has become quite the popular attraction for international tourists and has significantly grown as a result. The province of Guanacaste is the #1 most searched for term of all destinations in Costa Rica and experienced a 26% increase in tourists during the first three months of 2011. The white sand beaches, turquoise blue water, unique jungles, and savory fresh fruit of Guanacaste region appeal to tourists around the world.
The Palms Private Residence Club in Costa Rica continues to present tremendous value, to owners. With its exclusive beachfront location, The Palms is conveniently situated just footsteps away from the beautiful white sands of Playa Flamingo—unlike any other resort or real estate property in Costa Rica.
Now owners at The Palms can enjoy their peaceful day at the beach with a tropical beverage or fish sandwich offered on The Palms' new food and drink menu. With its affordable prices and hand-selected food items, this menu is perfect for a late afternoon lunch or midday snack. Mouth-watering selections include Mahi Mahi Ceviche served with fresh avocado and yucca chips, Grilled Jumbo Shrimp served with garlic bread and salad, a Grilled Tuna Sandwich with avocado and fresh salad, and more.
Arrange a preview visit to The Palms Private Residence Club today.
About The Palms Private Residence Club:
The Palms Private Residence Club is the only luxury residence club in Guanacaste, Costa Rica. Nestled on the Pacific Coast's pristine Playa Flamingo, each of the 32 Villas at The Palms offers stunning views of the Pacific Ocean. Offering all the advantages of vacation home ownership with the services and amenities of a first-class resort, The Palms offers its owners a luxury sanctuary and a more authentic experience. Potential owners can purchase 1/8th ownership at $149,000 or 1/10th starting at $129,000. Ownership provides unlimited, flexible access to all similar villas. Also, vacation at hundreds of other private home and resorts worldwide through The Palms' reciprocal use program. For more information, please call 800-867-5762 or visit http://www.palmscostarica.com. Check out The Palms on Facebook @ Palms Villas or Twitter @palmscostarica.
###