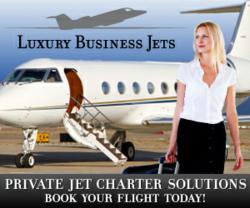 "Though singling out the private aviation industry does not seem to be a fair approach to fixing the problem, something must be done at this point in order to move the current state of the economy..."
- Jonathan Weiss, President of Luxury Business jets
Los Angeles, CA (PRWEB) October 11, 2011
There has been a lot of talk recently of how to pull the country out of the economic turmoil, and one of the plans devised plans to tap into the private jet charter industry. Luxury Business Jets and the rest of the private jet charter industry have been targeted by President Obama, who intends to add steep fees and taxes to the industry as a whole.
Currently, a commercial flight from Los Angeles to San Francisco costs between $1,300 and $2,000 in fuel taxes, whereas private jet charters are paying significantly less in fuel taxes. "General aviation users currently pay a fuel tax, but this revenue does not cover their fair-share use of air traffic services," the new plan states. Sure, there are other variables involved in these numbers, such as the number of passengers and size of the aircraft, but by charging even an extra $100 per private jet flight, President Obama hopes to raise an estimated $11 billion over the next ten years through this venture alone.
"Though singling out the private aviation industry does not seem to be a fair approach to fixing the problem, something must be done at this point in order to move the current state of the economy in this country into a better state," indicates Jonathan Weiss, President of Luxury Business Jets.
Around two-thirds of the United States air traffic control system are paid for by taxes from the aviation industry, and according to the department of Transportation, accumulated $10.8 billion in fees last year alone. Private jet rental is a thriving industry utilized by the wealthiest Americans, which makes it an easy target to make up some of the nation's deficit. However, alternatively, targeting the wealthy and the private aviation industry can have a negative affect on the economy as well.
Even President Obama himself has been, and will continue to make use of private aircraft charter as he tours the nation, campaigning and preparing for the next election. He is not alone in this, and other candidates will also be spending a majority of their time over the next several months on the road, where they will charter a private jet as a campaign expense and therefore recycling more money back into the economy, rather than using it solely to push their own agenda as the election approaches.
This coalition is made up of the General Aviation Manufacturers Association, whose members include General Dynamics Corp.'s Gulfstream and Textron Inc.'s Cessna, the National Business Aviation Association, which includes PepsiCo Inc. and Humana Inc., the Aircraft Owners and Pilots Association, which amounts to more than 400,000 members alone, and the Experimental Aircraft Association.
As a part of their opposition, they have reached out to the President in an effort to explain their cases, stating, "many foreign countries have imposed per flight charges on general aviation and the results have been devastating." They also go on to say that though there is a large marginal difference in the fees applied to private aircraft, any new fees would create "a costly new federal collection bureaucracy."
"Though there is still a long way to go before this bill becomes a reality, the actual additional cost per private charter flight booked will not be significant," says Jonathan Weiss, President of Luxury Business Jets. The next time you charter a jet take into account the practical aspects of such a measure, that if passed, may end up costing you more a little money to fly, but in the long run, may end up helping out the nation as a whole.
About the Company:
Luxury Business Jets is a solution-driven firm, providing world-class business jet charter services by understanding our executive jet charter clients, and adhering to their specific needs. We allow for our clients to choose the appropriate jet from our catalogue of the country's newest and most luxurious personal aircraft; allowing for our clients to enjoy a truly unique, customizable traveling experience. We pride ourselves on our ability to offer one-on-one, client tailored, on-demand business & executive jet charter options to the affluent and savvy traveler. Discover why the world's most influential individuals choose Luxury Business Jets for their traveling needs.
# # #