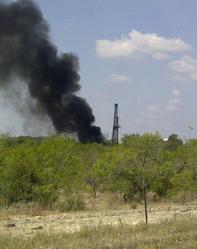 "As we saw in the BP Texas City Refinery explosion and many similar incidents, the concept of profits over safety is the root of all evil in this industry." says Attorney James Christopher Dean.
Houston, Texas (PRWEB) October 01, 2011
Oil field injury and wrongful death attorney James Christopher Dean says it is not a surprise more have been added to the statistics of oil field injury with the latest explosion. "On September 22, 2011 two people were airlifted to a San Antonio hospital with severe burns". Authorities in Falls City, TX (45 miles outside San Antonio) say this is the recent news after an oil rig explosion at a Karnes County oil well. ABC local reports that the Texas Department of Public Safety spokesman Jason Reyes said Thursday that authorities had accounted for everyone at the site. He said the two people injured had second- or third-degree burns. Reyes said the explosion apparently happened during a transfer involving a truck carrying 45 gallons of oil and two propane tanks. It was unclear how many workers were onsite at the time. Reyes said the oil well is managed by Houston-based Amerril Energy Inc. The company did not immediately comment.
Dean says, "Most catastrophes like this terrible explosion are avoidable. Business in the oil patch is crazy right now. Overbooked drillers and contractors, inexperienced site personnel, the rush to drill and frac and move to the next job are just a few examples of how safety is taking a backseat in the oil patch right now."
In 2008, 120 people were killed in the oil and gas industry, according to the Bureau of Labor Statistics. Of those, 21 people died in the oil and gas extraction industry, which includes offshore oil rigs. Dean believes that the numbers of serious injuries on oil and gas industry tell a more compelling story. "As we saw in the BP Texas City Refinery explosion and many similar incidents, the concept of profits over safety is the root of all evil in this industry. The stakes only go up from there when the industry experiences boom times like these." Christopher Dean was appointed plaintiffs' liaison by the district court judge overseeing the BP Texas City litigation.
The Dean Law Firm has extensive experience in obtaining very favorable settlements and jury verdicts against refinery, chemical & oil companies. This proven track record includes: Attorney James Christopher Dean as lead lawyer for victims of the BP Texas City explosion and fire of March 23, 2005. In fact, the judge in that case appointed Attorney James Christopher Dean as Liaison Counsel for that huge case, which means he served the judge to be the intermediary between the court and the dozens of law firms representing other victims of that refinery explosion. Christopher Dean is also known for his ability to prove that oil company budget cuts and profit motives often have lead to terrible safety cultures, which inevitably causes personal injury and death at refineries and chemical plants. Attorney Christopher Dean obtained a very large confidential settlement for an oil field worker burned over 86% of his body in a gas well explosion. The settlement will take care of this victim for the rest of his life. To obtain more information regarding oil field injury & wrongful death cases visit http://www.TexasOilRigExplosion.com.
The Dean Law Firm currently represents several cases related oil catastrophic injuries. James Christopher Dean has obtained numerous settlements and jury verdicts, some of those for punitive damages, for victims of refinery explosions, fires, and other accidents. If you have suffered an oil field injury or wrongful death in a refinery, plant, oil field, or oil rig accident call Attorney James Christopher Dean at the Dean Law Firm in Houston at 888-542-7060. He will help you pursue the compensation you deserve.
Dean Law Firm Contact Information:
17225 El Camino Real, Suite 190
Houston, Texas 77058
Toll Free: 888-542-7060
###