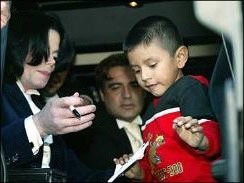 Miami, Florida (PRWEB) October 04, 2011
Michael Jackson's Physician and friend, A.J. Farshchian MD, joins Dr. Drew and Dr. Gupta of CNN for a medical panel discussion. Dr Drew is an American radio and television personality.
On a panel last week on the Dr. Drew show, Dr. Drew introduced Farshchian as a friend and confidant of Michael's. Farshchian was reminiscent of the time he watched TV with Jackson.
According to Dr. Drew, after his third child Blanket was born, Jackson knew he must put a stop to his drug problems. For that he asked for Farshchian's help between 2000-2003.
A spokesperson for Dr Farshchian said earlier that Jackson and Farshchian were close family friends, but they were also working on some business ventures together. Among the projects, one in particular was the construction of a children's hospital in downtown Miami.
Dr. Farshchian was on the witness list for the defense for the 2003 child molestation trial.
A.J. Farshchian M.D. works out of The Center for Regenerative Medicine in Miami. An active member of the Republican Congressional Committee, he has also authored a text book of Orthopedic Regenerative Medicine.
###