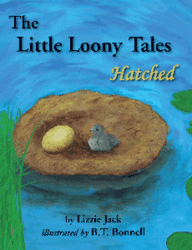 'The Little Looney Tales' tells the age-old story of sibling jealousy and rivalry through the eyes of this charming family of loons.
Apple Valley, Minn. (PRWEB) October 11, 2011
Sibling rivalry comes in many forms, so it's no surprise a version might exist in the animal kingdom. This new children's book features the story of Gabe, a downy-soft baby loon who believes he has a perfect life. His parents dote on him, and he gets all of their attention, riding on his mother's back and eating small fish from his father. But things change when his little sister Fluffy hatches. Now the newest bird in the nest is getting all of the attention. Pushed to a breaking point, Gabe begins to pick on his little sister. But when she finds herself threatened, her big brother learns his true feelings about his sister and comes to Fluffy's rescue.
The Little Loony Tales tells the age-old story of sibling jealousy and rivalry through the eyes of this charming family of loons, as the baby chicks squabble over who gets to sit in front or who is getting more to eat. B.T. Bonnell's colorful illustrations of the black and white birds and their idyllic lakeside home pair beautifully with this heartwarming tale. Families can read together, receiving a lesson on nature – especially the habits of loons – as well as how to get along with one another in their own "nest."
Author Lizzie enjoys Michigan's Upper Peninsula, and author Jack loves the Monterey Coast. This is the first book for the pair, who share a fascination with the great outdoors and loons. They are already working on a second book, Little Loony Tales: Dive, Chicks, Dive. This is the first book graphic artist B.T. Bonnell has illustrated. She lives in Minneapolis.
For more information, visit http://www.LizzieJackBooks.com
THE LITTLE LOONY TALES: HATCHED
Lizzie Jack
Dog Ear Publishing
ISBN: 978-145750-520-1 34 pages $14.95 US
Available at Ingram, Amazon.com, Barnes & Noble
and fine bookstores everywhere
About Dog Ear Publishing, LLC
Dog Ear Publishing offers completely customized self-publishing services for independent authors. We provide cost-effective, fast, and highly profitable services to publish and distribute independently published books. Our book publishing and distribution services reach worldwide. Dog Ear authors retain all rights and complete creative control throughout the entire self-publishing process. Self-publishing services are available globally at http://www.dogearpublishing.net and from our offices in Indianapolis.
Dog Ear Publishing – self-publishing that actually makes sense.
###