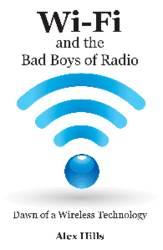 Dr. Hills had a vision: people carrying small handheld devices that were always connected.
PALMER, AR (PRWEB) October 04, 2011
Wi-Fi is everywhere. It converts our airline seats to remote offices, lets us read email in airports, watch video in coffee shops, and listen to music at home. But where did it come from? Alex Hills led a small band of innovators to build the network that would become the forerunner to today's Wi-Fi.
Wi-Fi and the Bad Boys of Radio takes us back to when the Internet was first gaining popularity, email took ten minutes to load up, and cell phones were big and unwieldy. But Dr. Hills had a vision: people carrying small handheld devices that were always connected. His unwavering purpose was to change the way we use the Internet. It's a story of how innovation happens, and it weaves together personal adventures with vivid descriptions of physical phenomena. The author's technical insights answer the question "How does Wi-Fi work?" in a way that is clear to everyone. The book enlightens, entertains, and shows just how far we've come in the world of wireless connectivity.
Author Alex Hills, an inventor with 11 patents, is Distinguished Service Professor of Engineering & Public Policy and Electrical & Computer Engineering at Carnegie Mellon University. Dr. Hills frequently speaks about technology at university seminars, corporate training sessions, conventions and community events. Readers of all backgrounds have been fascinated by his contributions to Scientific American and IEEE Spectrum magazines — articles that explain technology in a style that is clear to anyone.
For more information visit http://www.dralexhills.com
WI-FI AND THE BAD BOYS OF RADIO: DAWN OF A WIRELESS TECHNOLOGY
Alex Hills
Dog Ear Publishing
ISBN: 978-145750-560-7 160 pages $16.95 US
Available at Ingram, Amazon.com, Barnes & Noble
and fine bookstores everywhere
About Dog Ear Publishing, LLC
Dog Ear Publishing offers completely customized self-publishing services for independent authors. We provide cost-effective, fast, and highly profitable services to publish and distribute independently published books. Our book publishing and distribution services reach worldwide. Dog Ear authors retain all rights and complete creative control throughout the entire self-publishing process. Self-publishing services are available globally at http://www.dogearpublishing.net and from our offices in Indianapolis.
Dog Ear Publishing – self-publishing that actually makes sense.
Media contact:
Alan Harris
Dog Ear Publishing
(866) 823-9613
alanh(at)dogearpublishing(dot)net
###