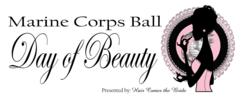 "This is our way of saying thanks to the wonderful servicewoman and wives of servicemen"
(PRWEB) October 04, 2011
The "Marine Corps Ball Day of Beauty", sponsored by Hair Comes the Bride, is free to all participants. All participants will receive a day of pampering which will include hair & makeup styling, manicures, food, music, and a "goodie bag" filled by event sponsors in preparation for the Marine Corps Ball.
The event starts at 11:00am and will continue until 5:00pm, with several "appointment times" available throughout the day.
For more information on volunteering, registering or covering the event, please contact Gina Ludwig at gina(at)haircomesthebride(dot)com.
About Hair Comes the Bride
Founded in 1996 and based in Orange County, California, Hair Comes the Bride is proud to be ranked the #1 bridal beauty agency in the nation.
###