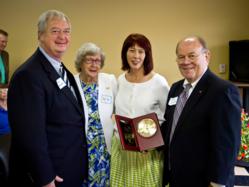 We are proud to celebrate National Recovery Month. It highlights the impact treatment has on the disease of addiction. ~ Bob Hinds, Executive Director, Bradford Madison
Huntsville, AL (PRWEB) October 03, 2011
Bradford Health Services Substance Abuse Treatment Center celebrated National Recovery Month at their adult and adolescent inpatient facility in Huntsville, Alabama. More than a dozen state, regional, and local politicians presented plaques and awards to Bradford for their impact in substance abuse treatment over the last 25 years. Bradford Madison has served more than 31,000 patients and their families.
To emphasize the restorative powers of substance abuse treatment centers and recovery, two former Bradford patients who are now long term Bradford employees shared their stories of desperation in active drug and alcohol addiction to redemption in recovery.
Executive Director Dr. Bob Hinds said, "We are proud to celebrate National Recovery Month. It highlights the impact treatment has on the disease of addiction, and recognizes the lives that have been changed through 12-Step programs."
About Bradford Health Services:
Bradford Health Services is dedicated to creating effective and affordable chemical dependency treatment programs. Through a variety of innovative inpatient and outpatient services, they're bringing new hope to patients and their families – committing ourselves to providing treatment that can work for everyone involved.
###