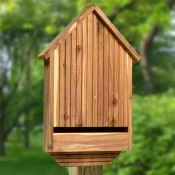 Clarence, New York (PRWEB) October 04, 2011
Just in time for Halloween, USABirdSupply.com reveals why putting up bat houses is great for the environment. Over the years, bats have gained a strong association with this holiday. This is due to the bonfire celebrations of summer's end that attracted a great deal of insects. The insects drew bats near making bat sightings part of the Halloween experience.
The United Nations declared 2011-12 as the International Year of the Bat and Bat Conservation. USA Bird Supply's bat house kits are fun to put together at Halloween and raise awareness of bats' contribution to the environment. Putting up a bat house helps reduce mosquitoes as a pest for gardens and yards, and as a potential disease carrier.
USABirdSupply.com has bat houses that can accommodate 12 to 50 bats. Some bats migrate while others hibernate generally in caves or mines from September through May in Northern US/Canada and in warmer locales November through March. Mount the bat house when bats are not present--November to early March. Once the house is in place, leave it alone--don't move it or shine a flashlight into it. Then enjoy a yard that has its own natural pest controller.
Bats are super pest controllers as 70% of their diet are insects and they can eat up to 600 mosquitoes an hour. Bats eat flies, mosquitoes, moths, midges, mayflies, beetles and other insects. They eat many insects that are harmful to agricultural crops (savings farmers millions and reduce the need for chemical pesticides and are natural) and to humans including encephalitis, west nile, malaria, dengue fever and yellow fever that are spread by mosquitoes.
Besides insect eating bats, there are fruit eating bats that help disperse seeds and are beneficial in the rainforest for restoring areas that have been clear cut. According to Batcon.org, seeds dropped by bats can account up to 95 percent of the first new growth.
Bats which feed on nectar are great pollinators in all types of environments from deserts to rainforests and are critical pollinators for bananas, avocadoes, peaches, mangoes, cashews, figs, and dates. Other bats eat fish, small frogs, lizards and mice.
The famous vampire bats of Mexico, Central and South America feed on blood from horses, cattle and birds and need about 2 teaspoons of blood a day to live. Of the 1000+ species of bats (20% of all mammals), only three are vampire bats and two feed on birds and only one prefers mammals, especially livestock. Bats range in size from a 6 foot wing span to a few inches.
Worried about rabies--fewer and one half of 1% of bats have rabies. In the last 50 years, there have been only 40 cases of humans getting rabies from bats. On August 18, 2011 there was a death in the US due to a migrant worker who was bitten by a vampire bat 400 miles south in Mexico. Vampire bats do not reside in the US.
When buying a bat house, it should be placed in a location with hours of sunlight--south, southeast or southwest. Ideally, it should be located near water--within a mile of a stream, river, pond or lake. If you have two houses, they should be facing different directions. They should be mounted on a building (but not under eaves that may shade it nor air vents) or on a pole at least 12 feet from the ground. Tree locations are generally too shady and allow for encroachment by predators.
USABirdSupply.com is Located in Clarence, NY Outside Buffalo And Offers Over 1100 Bird Products Including Bird Feeders, Bird Houses, Bird Baths, Martin Houses, Garden Art, Bat & Owl Houses, Garden Flags, Butterfly Feeders and Live Mason Bees
# # #