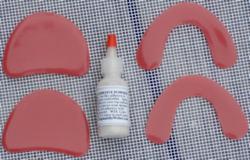 "Excellent service would highly recommend, these are superb!!!!"
Toms River, NJ (PRWEB) October 04, 2011
Once a person has dentures in the mouth it is realized - life has changed forever! The denture wearer must now face the fact that he/she must endure the often upsetting experience of wearing dentures for the rest of life. Dentures force the wearer to attempt to go through the process of learning all over again how to smile, talk, sneeze and of course, how to chew and eat food at least three times each day in the same way as they used to do when they had their own natural teeth
In short, when a person wears dentures, it is soon discovered that there is a need to find a good way to stop being a victim of those always frustrating dentures that: move when the wearer eats; tend to "fall" in the mouth when talking; make annoying clicking noises; cause food to get stuck under the dentures and then make the gums hurt; wearer's must avoid biting apples and eating foods that they used to love to eat when they had natural teeth.
It is a known fact that as soon as a person's natural teeth are removed, the jawbone and gums begin to shrink in size. This is a slow process that can take a long time but there is no way to keep it from happening. Eventually those once perfectly fitting new dentures will - day by day - get looser and much more uncomfortable.
When dentures are loose and do not fit well, the wearer does not chew properly and this can lead to a lack of good nutrition and that, in turn, can make the wearer feel bad all over. This is because Improper chewing means the wearer may swallow large lumps of food that make digestion difficult and over time, that can lead to stomach and other physical problems.
In addition, there are those daily problems of using denture adhesives that are hard to remove and a wearer must face the fact that wearing dentures makes the face and lips slowly change shape. What happens is that, because there are no natural teeth, facial muscles tend to relax and this can result in sunken cheeks and more wrinkles. Also, denture wearer's soon become aware that dentures that hurt their mouth can also cause sores and a series of constantly annoying tender and hurting places soon start to appear on the gums.
In recent years, oral dentistry has made much progress with new and better ways to make denture wearers look younger, feel better and chew comfortably day after day for the rest of their lives. In fact, these days, a new set of comfortable dentures can make a wearer's smile almost radiant.
One of the best ways to overcome most of the problems caused by dentures is to do everything possible to make those dentures fit comfortably all day and all night long. In short, it soon becomes apparent that a denture wearer needs to find a good, inexpensive way to "fill the gaps " between the denture and the gums, that are caused by the natural gum and jawbone shrinkage.
Weber, the inventor of the new Weber Denture Liner (Pat. Pend.) has worn a denture for most of his life as a result of having his two front teeth broken and removed when he was in grade school. His denture was never comfortable. As he grew, he was always searching for good ways to make his denture more: stable, have better support and improved retention.
When Weber was asked what his customers think of his invention he said: "Let me give you some actual quotes from my customers about their new Weber Denture liners:"
"Excellent Product! Saved me $100's! I will be back for more! Highly recommended"
"Thanks, Great product works well."
" Really liked it,,,,it works better any thing i have tried."
"This is my 2nd order ,works really well, will be back"
"Truly a Godsend, Great product!"
"Excellent service would highly recommend, these are superb!!!!"
The Weber Denture Liner Kit, a modern denture re-liner, is now available to denture wearers in two different shapes: (1) the original circular disk shape that is always soft and mold-able and requires no mixing and (2) the new preformed denture liners that are shaped in a user's choice of uppers and/or lowers. These new always soft denture liners that require no mixing (ready to use) add thickness to the denture and thus easily fill the gaps left by the normal jawbone and gum shrinkage. The Liners can be easily removed, washed and reused many time. These Weber Denture Liners make the dentures much more comfortable by providing better support, more stability and much improved retention so that chewing food, sneezing, speaking and laughing can again put a smile on every denture wearer's face.
Thus, it is no longer necessary for denture wearers to suffer because they wear loose dentures.
More information and details about Weber Denture Liners is easy to access on the following Video and website: http://www.yrret.stirsite.com/page/page/4578911.htm (see below) Or write to Originals By Weber, 338 Alabama Avenue, Toms River, NJ 08753. Phone numbers are: 732-864-0353 and877-309-8282. Price of the Weber Denture Liner Kit # RK-4 with 4-circular Liners and one bottle of adhesive denture powder is $22.95 plus $3.60 s/h. Price of the Pre-formed Denture Liner Kit # PF-10 (5 upper & 5 lower) plus one bottle of adhesive denture powder is $39.95 plus $3.60 s/h. Specify how many uppers and how many lowers are wanted.
###