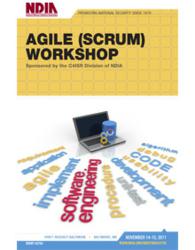 Meet your SCRUM Masters at NDIA's Agile Workshop Nov 14-15, 2011
Baltimore, Md. (PRWEB) October 06, 2011
On November 14-15 2011, the National Defense Industrial Association will offer a valuable opportunity for acquisition personnel to exercise agile development—a methodology based on the concept of building solutions through processes of collaboration, self-organization and cross-functional team efforts.
The NDIA C4ISR Division is sponsoring an interactive workshop at the Hyatt Regency Baltimore to help participants experience some of the principles of agile development methods firsthand, which incorporate an iterative approach, promoting adaptive planning and "evolutionary" development and delivery.
To help acquisition personnel better understand the implications of these methods, this "leading by example" workshop will enable participants to not only bring their questions and perceptions about agile methods to the workshop, but also experience various simulations of typical agile activities as a way to learn experientially within this type of environment. Participants will work towards finding solutions to some of the problems that they identify at the beginning of the workshop.
From discussing current impediments to agile development in the workplace to building integrated solutions and creating presentations for "ideas for change," participants will utilize the full spectrum of the methodology. Activities will include creating backlogs of user stories and planning and developing sprint groups under the guidance of Scrum Masters. The workshop will conclude with a sprint retrospective and fish bowl session to discuss how it felt to work in an agile environment, as well as the opportunity to identify what solutions and outcomes can be brought directly back to the workplace.
In addition to Ms. Walsmith, other scheduled speakers are: Dr. Steve Kimmel, SVP, Alion Science & Technology and C4ISR Division Chairman, NDIA; Mr. Michael Kutch, Senior Engineer, Joint Interoperability Test Command; and Mrs. Suzanne (SuZ) Miller, Technical Staff, the Software Engineering Institute.
For venue address, lodging availability, agenda, and to register: http://bit.ly/qTrNhl.
The National Defense Industrial Association (NDIA) is America's leading Defense Industry association promoting national security. NDIA is proud to provide a legal and ethical forum for the exchange of information between Industry and Government on National Security issues. Our members foster the development of the most innovative and superior equipment, training, and support for the warfighters and first responders represented by our Divisions.
###