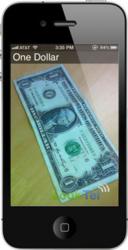 Culver City, CA (PRWEB) October 11, 2011
NantWorks and IPPLEX have released a major update to their revolutionary LookTel Money Reader, a cutting-edge iPhone application that has helped thousands of users with visual impairments or blindness identify and count bills. By simply pointing your iPhone's camera at a bill, the application recognizes and speaks the denomination in real-time. The new update, now available in the App Store, adds recognition support for several international currencies including the Euro, British Pound, Canadian Dollar, and Australian Dollar. New features also include VoiceOver integration with support for several languages including English, Spanish, French, Italian, German, Polish, Russian, Korean, Finnish, Danish, Swedish, Norwegian, Japanese and more. If your iPhone language setting is set to any of the supported languages listed above, LookTel Money Reader will speak the denomination of a recognized bill in that language, regardless of the currency type.
Powered by LookTel's patented and proprietary object recognition technology, the application can seamlessly recognize any bill denomination without the need to hold the camera still or take a photo as recognition happens in real-time.
LookTel Money Reader launched in March to overwhelming praise from critics and users alike, earning a 5-star review average and a featured spot in the Apple App Store's "What's Hot" Category. LookTel has also been featured by the New York Times, The Huffington Post, Tech Crunch, Engadget, and several other major publications.
According to the World Health Organization (WHO), 314 million people are visually impaired worldwide and 45 million of them are blind. The decision to first release an app for the iPhone rather than another platform was based on the growing trend among people with visual impairments or blindness to adopt the incredibly popular device. Gary Kelly, an adviser to IPPLEX and the Executive Director of Blind Wisdom Inc., explains that "Every iOS device including the iPhone has VoiceOver, which is easily turned on through the Settings menu. This makes any iPhone talk. With VoiceOver, any iPhone will read any item touched on the screen, and speak when a number or letter is entered. This makes the entire device entirely accessible to anyone who is blind. The best part is that nothing has to be added, or purchased extra. One can go into the store, buy any iPhone or iOS device, and turn on VoiceOver in only a minute. From then on, it will work as well for anyone blind as it does for persons who are not blind."
The LookTel technology powering the application was developed by IPPLEX under sponsorship from the National Institutes of Health (NIH) and was awarded two research grants from the National Eye Institute (NEI) and the National Institute of Aging (NIA). LookTel Money Reader is the first LookTel application released to the iPhone App Store, providing an immediate benefit at an extremely low price. The app can be used while shopping, paying a bill, or withdrawing from an ATM to count money and ensure users they are getting the right amount of change back.
According to Kelly, who has been using the app regularly, "LookTel Money Reader is an exciting advance because it is so easily used. Even though a camera is used to view the money, the response is so fast that it is easy to learn to focus the camera on the money and hear VoiceOver read the bill. Now, with the new International version, one can read money of several nations independently, in a preferred language. This is the first device to have such a capability. It offers the same independence to persons from other cultures and nations as English-speaking Americans have had for the past 6 months."
Compared to traditional "money reader" devices, which are standalone and can cost hundreds of dollars, the LookTel Money Reader runs on the iPhone, costs only a few dollars to purchase, and is very easy to install.
Future LookTel apps will further leverage IPPLEX's groundbreaking augmented reality technology, allowing users to recognize other everyday objects such as packaged goods, CDs, medication bottles, and even landmarks. The technology also combines precision image recognition technology with text reader capabilities using full featured Optical Character Recognition (OCR).
A demo video of the LookTel Money Reader application is available at http://www.youtube.com/watch?v=_HMVXEZNeNM.
About IPPLEX
IPPLEX researches and develops pioneering cross-platform applications and services focused on interactive communication – between people and the information, contacts and places they need to access through their mobile phone or PC. Our award-winning iVisit mobile video conferencing solutions have made business simpler and easier – and our iVisit Mx telemedicine solutions are the next step in mobile medical technology. In 2010, we launched LookTel, an exciting augmented reality application created to positively impact the lives of the visually impaired, and a 1st place winner in the 2010 CTIA E-Tech Awards. From live audio/video conferencing solutions to mobile healthcare to augmented reality applications, IPPLEX is always one step ahead of the curve. For more information, see http://www.ipplex.com.
About NantWorks
NantWorks LLC is a company founded and led by Dr. Patrick Soon-Shiong. Its mission is to converge semiconductor technology, supercomputing, advanced networks and augmented intelligence to transform how we work, play and live. Early applications will be in the fields including scientific research and healthcare. For more information, see http://www.nantworks.com.
###