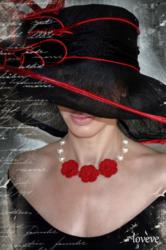 A brand that accentuates the feminine elegance of women through timeless modern vintage designs
Orange County, California (PRWEB) October 04, 2011
loveve.com features accessories and handmade jewelry pieces that are simple, yet elegant, transcending all self-imposed boundaries. In the age of abundance, globalization and automation, tired of the artificiality of this era, we all have an yearning for something that besides design will have a personal meaning instilled by the maker, a soul, a bygone fragrance. Women all around the world are looking for the secret to the ultimate, unforgettable accessory that would catch the eye and make them stand out.
The desire for genuine authenticity creates a venue for new non mainstream outlets and new trend setting emerging fashion designers.
And this is how the brand lovéve is born. It naturally emerges. It evolves from an idea to an inspiration and an expression taking the artist on inevitable and inescapable journey. A new brand reviving an old style in a contemporary manner with exquisite and classic jewelry designs.
Blending handmade crochet materials with the fantasy and the finesse of the Swarovski Crystals takes the concept of designer jewelry to a fresh new level. Embracing the past in a modern sense, but keeping the style of the forgotten elegance creates a wholly unique experience. It creates accents that evoke femininity and confident simplicity.
loveve.com is an on-line boutique for exquisite handmade jewelry and accessories and was founded in 2011 by Evelina Pentcheva. A graphic artist and web developer for many years, she discovered a different venue for the constant flow of creativity. loveve.com also features fabulous photography created by Evelina.
Lovéve's products are an expression of the customer's appreciation for artfulness and good design. The idea of the artist is to create an online boutique that would offer unmatched experience and make every visit an affair with beauty.
# # #