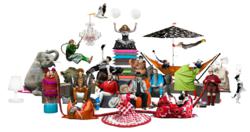 We're thrilled to have been asked to play a role in MTV's "The Real World"," says Paula Masters, President of Fatboy USA. "The Real World combines all of the elements that are a perfect setting for our lifestyle product– relaxed, stylish and surprising.
Dallas, TX (PRWEB) October 17, 2011
Fatboy® announced today they are participating in the MTV's "The Real World" Season 26. The Fatboy® metahlowski and the Fatboy® headdemock can be seen at the house being used by the cast of the network's longest running hit reality franchise. The new season is about seven strangers who embark on the experience of a lifetime while getting to know themselves and each other.
Throughout the 25 seasons, "The Real World" has been one of the highest rated shows on MTV. "The Real World: Las Vegas" which aired Wednesday's at 10pm ET/PT ranked as Wednesday's #1 original cable series with P12-34.
"We're thrilled to have been asked to play a role in enhancing the MTV's "The Real World" house for season 26," says Paula Masters, President of Fatboy USA. "The Real World combines all of the elements that are a perfect setting for our lifestyle product – relaxed, stylish and surprising," continued Masters.
This all-new season of "The Real World" premiered Wednesday, Sept. 28 at 10/9c on MTV. It's a three month journey where seven strangers find themselves living in the seaside community of La Jolla in San Diego. This beautiful beach house was redesigned for the show and Fatboy® was selected to be a part of the process. With an assortment ranging from the Fatboy® metahlowski, Fatboy® flowerpowersol, Fatboy® avenue, and much more, Fatboy® provided the cast with a comfortable, imaginative and free-spirited environment.
"The Real World" launched the modern reality television genre and is the longest-running reality series in history. Past seasons have taken place in cities such as New York, Los Angeles, San Francisco, London, Miami, Boston, Seattle, Hawaii, New Orleans, Chicago, Las Vegas, Paris, Philadelphia, Austin, Key West, Denver, Sydney, Hollywood, Brooklyn, Cancun, and New Orleans. The first season, set in New York City, debuted in 1992. Each season, the show brings seven young adults to live together in a new city and the cameras roll 24-7, witnessing as their lives intersect, their ideas are challenged and their passions emerge.
About Fatboy®:
Fatboy® is an imaginative lifestyle brand that excels in thinking outside the box. The Dutch company has been challenging the concepts of lifestyle product since 2002, when it set out to create the perfect lounge chair— designed for fashion, for comfort, and tailored for an unmatched lounging experience. Today, Fatboy® brings energizing comfort and smiles to people in over sixty countries worldwide with a growing line of lifestyle products all designed in the name of a wonderfuller life. Wrap yourself in the Fatboy® brand experience and share the legacy by visiting http://www.fatboyusa.com and http://www.facebook.com/FatboyUSA.
About MTV:
MTV is the world's premier youth entertainment brand. With a global reach of more than a half-billion households, MTV is the cultural home of the millennial generation, music fans and artists, and a pioneer in creating innovative programming for young people. MTV reflects and creates pop culture with its Emmy®, Grammy® and Peabody® award-winning content built around compelling storytelling, music discovery and activism across TV, online and mobile. MTV's sibling networks MTV2 and mtvU each deliver unparalleled customized content for young males, music fans and college students, and its online hub MTV.com is the leading destination for music, news and pop culture. MTV is part of MTV Networks, a unit of Viacom (NYSE: VIA, VIA.B), one of the world's leading creators of programming and content across all media platforms. For more information, go to mtvpress.com
About Bunim/Murray Productions:
Bunim/Murray Productions is the leading producer of innovative entertainment content. The Emmy Award-winning company is widely credited with creating the reality television genre with its hit series The Real World (26 seasons for MTV). Bunim/Murray continued to innovate with the first reality game show, Road Rules (MTV), in 1995; the first reality sitcom, The Simple Life (E!), in 2003; and the first reality soap opera, Starting Over, in 2003. Bunim/Murray's current programming includes The Bad Girls Club and Love Games (Oxygen), Keeping Up with the Kardashians, Kourtney and Khloe Take Miami, Kim and Kourtney Take New York, Khloe and Lamar, The Spin Crowd and Married To Rock(E!), The Real World/Road Rules Challenge (MTV), Project Runway (Lifetime) and Saddle Ranch (VH1). Bunim/Murray Productions has launched additional entities including M Theory Entertainment, BMP Films and M Music. BMP Films produced Pedro (MTV) and the Emmy Award-winning Autism: The Musical (HBO). Based in Van Nuys, CA, Bunim/Murray Productions was founded in 1987 by Jonathan Murray and the late Mary-Ellis Bunim. The company joined Banijay Group in 2010.
###