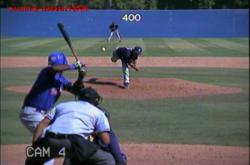 "A solid approach is the development of a plan or goal based on the situation a player faces."
Rolling Hills, CA (PRWEB) October 24, 2011
RightView Pro, a video analysis software company for baseball swing and softball swing analysis, challenges the notion on whether or not players should make physical adjustments during an at-bat. RVP research suggests that making physical adjustments can only delay the development of a player's database (mind). A solid hitting approach is a mental plan of action that does not include any physical changes during an at-bat.
According to Don Slaught, founder and president of RightView Pro, "The approach is where a player makes conscious mental adjustment(s) prior to stepping into the batter's box." Slaught believes that a solid approach is the development of a plan or goal based on the situation a player faces such as the pitcher's repertoire, the count, and the game situation. Slaught explains "A player's approach varies dramatically on a 3-1 count vs. a 0-2 count, where the player will re-size or adjust the strike zone or window accordingly." Slaught goes on to say that timing is another major factor in a successful approach while emphasizing that "if a player can narrow in on whether they were early, late or on-time on the pitch, they will maximize the damage they can do on any given pitch ."
According to Slaught, "The approach should be a single thought (like) – 'I am going to drive this fastball back up the middle'. This is a very popular plan because if the player is a tad late they can hit the Fast Ball to the opposite field and if the pitch is Off Speed the player can still keep it fair to the pull field. If on the other hand the player is in a situation where they can afford to take a shot at a HR, say a 3-1 count, their approach might be to hit the Fast Ball out in front to the left field seats." Slaught explains that "This one thought basically tells the mind or computer to re- calculate and start everything just a little earlier to catch the fastball out in front and do some damage-- and if it is not a fastball, to trust that the training will stop the swing. The approach is just the goal that's given to the mind and from there a player's training must be trusted. The approach or plan should not include any thoughts of how or when to accomplish the task and instead let the mind or computer figure out how to accomplish the task ."
According to RightView Pro's Advanced Hitting Analysis Software, "when adjustments are needed, the mental approach should be changed or adjusted from pitch to pitch instead of a player's swing mechanics." According to the Lesson on Approach, "Mental adjustments should be made after each pitch in response to what was just seen or felt by the hitter and f the hitter starts making physical adjustments with their swing mechanics during a game, there is a chance that the model that's build in the player's mind or computer will get distorted." The lesson emphasizes that "Any physical changes in stance, length of stride, choking up, or moving in the box could affect not only swing mechanics but also the hitter's database and timing." RightView Pro teaches that changing or adding variables to the equation is not the answer in a pressure situation. Slaught gives the example "if a player moves a couple of inches closer to the plate on any particular pitch, their database that they have built for years, will also move a couple of inches closer to the plate." Slaught says that "If a player has seen thousands of pitches from one spot in the box why change now. All of this doesn't even take into consideration that the catcher can see these changes and adjust his pitch calls accordingly ."
The emphasis Slaught lays out is that physical adjustments are very difficult to make and take a lot of training to be successful. If a physical adjustment feels better, then it should be done all of the time. A perfect example according to Slaught is Barry Bonds. Bonds began choking up with 2 strikes and had great success and decided to do it for the next 17 years of his career. Slaught says "This is why time should be spent developing plans or approaches that enable you to cover the different situations, rather than messing with the mechanics and the database ." Ultimately, Slaught articulates that "You can narrow your approach to cover just one type of pitch in a single location or broaden your approach to cover as many speeds and locations as possible".
About RightView Pro
RightView Pro was founded by former Major League Baseball Player, Don Slaught. Slaught's vision was to create a tool where kids and coaches could communicate and easily identify flaws in the swing and pitching motion. He felt strongly that the only way to do this was with models of Major League Baseball players and professional softball players. Don went to Major League Baseball and in the end they agreed that kids and coaches needed models to compare to.
Today, RightView Pro is the only video analysis software company licensed by MLB, MLB Player's Association and the National Pro Fastpitch League.
# # #