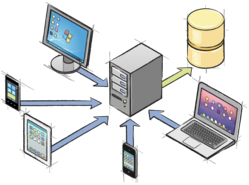 Compatibility and consistent architecture between platforms makes it easier for our users to add a new platform to their projects and solutions.
Hanover Park, IL (PRWEB) October 31, 2011
Building on its innovative design philosophy, RemObjects Software is currently developing Java and Android support for its flagship products: Data Abstract, for multi-tier database solutions; RemObjects SDK, a framework for building scalable distributed applications; and Oxygene, a next generation Object Pascal language.
RemObjects Software has solutions for software development currently available in .NET, Xcode, and Delphi. The soon to be released RemObjects SDK for Java (codenamed "white lodge") and Data Abstract for Java (codenamed "black lodge") provide powerful native functionality for Java and Android, while still using the same architecture users are familiar with on other platforms.
With all platforms RemObjects Software supports, the frameworks are built from the ground up as a native implementation for that platform. This allows their products to take advantage of the strengths of each platform without being held back by baggage or limitations from other platforms.
Oxygene for Java brings their next generation Object Pascal language to Android and Java platforms. Beta tested under the code name "Cooper", it takes the same state-of-the-art language from Oxygene for .NET and brings it to Java and Android. Both versions of Oxygene are code compatible, but allow leveraging of the respective frameworks on each platform.
"With the success of our .NET, Xcode and Delphi platforms, it was only natural that we expanded to develop with Java," said marc hoffman of RemObjects Software. "A big concern for us is always compatibility and we think we've been able to accomplish the same kind of consistency our customers expect."
By building each platform from the ground up and retaining the basic framework it makes for an easy transition between platforms; RemObjects SDK and Data Abstract take the strength of each platform and maintain framework and 100% wire compatibility. This allows servers and clients to be built on separate platforms while allowing seamless communication between them without any compatibility issues.
"Compatibility and consistent architecture between platforms makes it easier for our users to add a new platform to their projects and solutions," said Jim McKeeth of RemObjects Software. "Then our continued commitment to updating our frameworks as the platforms grow and expand means that our users will never be left behind."
Adding Java and Android support brings RemObjects Software's frameworks to all major platforms. Data Abstract for .NET supports Windows via the Microsoft .NET Framework; and Linux, Mac OS X and iOS via the Mono Framework. Data Abstract for Delphi supports Windows and Mac OS X. The Data Abstract for Xcode supports Mac OS X and all iOS platforms. The new Data Abstract for Java will support all Java platforms including Android.
About RemObjects Software
RemObjects Software is a leading creator of components and tools for software developers, with a strong focus on creating solutions that help build the core infrastructure of projects. Their top product is Data Abstract, a cross-platform multi-tier database application development framework for .NET, Xcode and Delphi. RemObjects Software's philosophy is to supply the best possible solution for each supported platform – Microsoft .NET, Apple Xcode, Embarcadero Delphi and soon Java – rather than providing a one-size-fits-all solution that uses a lowest common denominator approach. This ensures that developers on any platform can work with tools that are native to their development environment, fit in well with their existing architecture and integrate exquisitely with the platform in question. For more information, visit http://www.remobjects.com.
Contact
Jim McKeeth
RemObjects Software
(202) 643-3538
info (at) remobjects.com
blog.remobjects.com
@remobjects
###