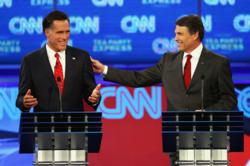 The quintessential red tie symbolizes power but there's room for improvement in political fashion. The campaign trail needs to break from convention and give us a dose of originality and character.
San Francisco, CA (PRWEB) October 06, 2011
It is hard to miss it! The political campaigns have begun, with each candidate in a full fury to define their individual identity. But are they really all that different? From first impressions and primary images, it is hard to tell! In all the debates, it's been one universal and conventional style of a dark suit, a white shirt, and a standardized red tie. Men's Fashion Expert Hendrik Pohl points out that "It is hard to argue that this uniform look is not presidential, but it is also quite unauthentic or "unchanged"; and Change is what was promised, but we are still waiting to experience it."
The un-authenticity in political fashion has already been mentioned by fashion writer and critic Kurt Soller in his article "CNN Tea Party Debate: Battle of the Solid Red, Silk Tie", recently published in Esquire Magazine, with his first line being: "Not even worth trying to declare a winner." Soller argues that disillusionment is at an all time high with the candidates wearing the same thing and reiterating the same rhetoric. He says that: "you can't look more presidential than your competition if you're all wearing the exact same look. At this point — with the ample hair, the wide lapels, the same ties, the flag pins, the suspicious tans — the three leading contenders all look like brothers getting ready for a cheesy family portrait."
According to Pohl, what people want is change, innovation and strong leadership from their potential leaders. Change has become the tag word but as Jean-Baptiste Alphonse Karr already wrote in 1839 "the more change is said, the more things stay the same." It doesn't take a political analyst to point out the lack of ingenuity and invention with the political candidates. Hendrik Pohl, men's fashion expert and founder of tie retailer Ties-Necktie, argues that "It's time for our leaders to step away from convention and embrace modernity and innovation, and it all starts with the attire." and he continues analyzing the uniform red-tie-look by saying "The quintessential red tie symbolizes power but there's room for improvement in political fashion. The campaign trail needs to break from convention and give us a dose of originality and character. The candidates need to remember that first impressions are lasting impressions."
Pohl explains that there is a psychology to colors that explains why politicians are overusing the red ties. Red is the symbolic color of victory and is the iconic color for American prowess. The standardized ruby red that we see on the campaign trail is scientifically proven to cause the highest reaction out of all the colors. What isn't proven, is what that reaction is going to be. Depending on the viewer's connotation, the red can either have a positive or negative reaction. According to Pohl, "Solid ruby red ties are poor sellers." And he continues explaining that "Our buyers don't want to dress like politicians. For pops of bright color, bright orange striped ties are our number one sellers."
Pohl is convinced that "The time has come for a leader who can break down old conventions and build a new foundation for stability and progress with innovation and cutting edge critical thinking. The public wants to vote for a leader who associates ruby red ties to old school politics. It's time to re evaluate our political system, break away from outdated conventions and introduce new policies, and it all starts with how the candidate dresses. People want change and not the same old red tie gray suit look." People want a leader that is not afraid to step away from the norm and Pohl is convinced when he says, "I believe the public would respond quite positively to a candidate wearing a different outfit. Take the light blue tie for example. It is a bright and vivid color that is not only different from the uniform looking red tie, but blue is also associated with calmness and serenity." If he were to consult political candidates on how to dress, he would embrace "change" even further by adding pink ties, skinny ties, and even as he puts it "Winston Churchill style bow ties".
# # #