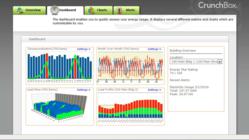 The average office building spends 30% of its operating expenses on utilities," said Scott Goldthwaite, CrunchEnergy's CEO. "The CrunchBox enables our customers to analyze, understand and control their energy usage, thus reducing their cost.
Boonton, NJ (PRWEB) October 03, 2011
CrunchEnergy will be showcasing the CrunchBox, a real-time energy monitoring, management, and reporting platform at the World Energy Engineering Congress, October 12 and 13th at Navy Pier in Chicago. CrunchEnergy is dedicated to developing breakthrough technologies to help businesses use less energy. The CrunchBox is a comprehensive energy management solution that analyzes energy usage data using proprietary algorithms and displays real-time information via a web-based dashboard and reporting system. Clients are able to view energy consumption on demand, giving them the data they need to make intelligent business decisions that can reduce energy usage and save money.
"Our aggressive approach to technology development has given us the ability to put ideas to work and we are excited about opportunity to show attendees how the CrunchBox is a key part of an integrated energy management solution," said Robert Bailey, Director of Business Development, CrunchEnergy. "Business owners and Property Managers seeking new technologies to help with energy efficiency will find the CrunchBox to be an invaluable resource for controlling energy expenses."
Visit CrunchEnergy at Booth 1313 at WEEC 2011 October 12-13, at the Navy Pier in Chicago
About CrunchEnergy
CrunchEnergy is dedicated to developing innovative new technologies that help the world use less energy. The company is a spin-off of Metem Corporation, a leader for 50 years in the design and production of gas turbine machining processes for OEMs and in the development of next generation technologies and processes to increase energy efficiencies. CrunchEnergy is led by a seasoned team of proven entrepreneurs and business professionals who have a history of building successful technology companies that have received tremendous accolades such as one of Deloitte's Technology Fast 50, one of New Jersey's Finest Companies, one of America's Best Places to Work, and the #1 Best Place to Work in New Jersey.
###