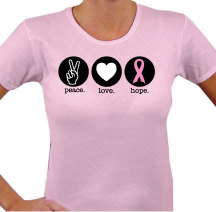 Tempe, AZ (PRWEB) October 01, 2011
DesignAShirt.com is offering tips for designing t-shirts for celebrating National Breast Cancer Awareness month in October - and donating money to the cause.
September and early October is the busy season for breast cancer awareness t-shirt orders at DesignAShirt.com. To help customers with designing custom t-shirts, DesignAShirt has a gallery of t-shirt design templates for breast cancer walks and events.
T-Shirt Design Tips:
a) Use lots of pink - but make sure you are using the right shade of pink. The recommended Pantone shade is 237 CVC - or Breast Cancer Pink. In the design notes that you submit to your custom t-shirt printer, spell out the exact shade that you want.
b) Don't forget about the guys! There are plenty of funny breast cancer tshirt designs that are focused for the men who want to fight breast cancer.
c) Use black and white as an accent. Instead of an all-pink shirt -- think about a solid black t-shirt with a stark pink logo to attract attention.
d) Raise money with your custom designed t-shirts. Sell them as a fundraiser -- along with other customized apparel -- like a custom tank top or hoodie.
e) Be careful of artists' rights and trademark phrases. If you are duplicating an organization's logo and trademark phrase on your t-shirt design, make sure you have permission to use them. Check with the organization to make sure there are no rules about the use for the logo or phrase.
f) Check out DesignAShirt.com's video of tshirt design ideas. for breast cancer events.
DesignAShirt.com will make a donation for every breast cancer awareness event online t-shirt order. A donation in the customer's name (up to $50) will be donated to the breast cancer charity of the customer's choice.
About DesignAShirt.com
Design A Shirt, LLC (http://www.designashirt.com) is an online retailer providing an interactive designer for custom t-shirts, apparel and promotional products for individuals, businesses, groups and events. Established in 2003 as a division of Anton Sport, Inc. (http://www.antonsport.com), DesignAShirt has printed millions of custom t-shirts, apparel and promotional products for its customers.
###