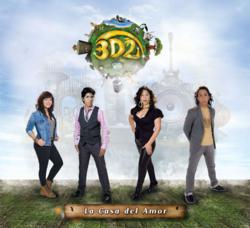 3D2 La Casa del Amor is a catchy song full of emotion and good vibe.
New York City NY (PRWEB) October 01, 2011
3D2, the NY Latin band known for their contagious rhythm sections, and the beautiful voice of their singer is releasing a new video for the song "Casa del Amor".
After a very prosperous career that had taken them to Madison Sq. Garden and some of the biggest Latino festivals in the east coast, 3D2 has come back with a new fresh single called "La Casa del Amor". This gorgeous catchy song is just a taste of the new material that Maikin (Drummer), Elsa (Singer), Moises (Guitars) and Sobrina (bass) are unveiling in the future.
# # #