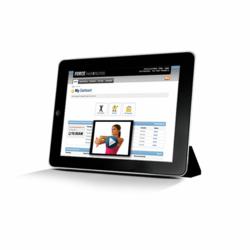 FORCE TherEx has transformed my practice by providing an easy to use tool that greatly enhances a patient's rehab experience.
New York, NY (PRWEB) October 04, 2011
FORCE Therapeutics launches FORCE TherEx, a breakthrough web and mobile application that extends physical therapy patient care beyond the office visit. The application provides physical therapists a clinically tested solution that manages patients, tracks compliance and effortlessly assigns video exercises. For patients, FORCE TherEx offers a robust online platform; an easy way to view exercise videos, track progress, buy equipment and securely communicate with their physical therapist.
A team of prominent physical therapists built the FORCE TherEx video library based on years of clinical experience. These high definition video exercises are easy to follow, promote proper technique and offer patients a proactive solution to their exercise treatment. The flexibility of the application enables the therapist to custom tailor exercise protocols for each patient as well as add their own videos. FORCE TherEx engages each patient with message alerts and reminders, all within a password protected environment.
"Using the Force App in our practice has resulted in a significant improvement in patient outcomes. It saves us so much time and patients love it," says Claude Hillel, PT. "FORCE TherEx has transformed my practice by providing an easy to use tool that greatly enhances a patient's rehab experience." A patient who has been using the TherEx platform for a couple of months reports: "All in all I love this product. It's been really helpful, and I think it solves many of the problems that come along in physical therapy." (Stephanie B - New York)
The company was founded in 2009 by Bronwyn Spira, a veteran physical therapist with 20 years of clinical experience, and Mark Lieberman, a health technology executive and serial entrepreneur. The product was initially built to solve Ms Spira's clinical need to stay connected to on-the-go patients and provide them with a web and mobile enabled video exercise solution. Early success with patient compliance and recovery gave birth to the launch of Force Therapeutics. "We set out to build the best online platform for physical therapists and patients. FORCE TherEx is based on many years of research and development as well as two years of extensive clinical testing. The product brings therapeutic exercise into a convenient, interactive environment" says Bronwyn Spira, president of FORCE Therapeutics.
To learn more about the FORCE TherEx platform and sign up for a free 14 day online trial please visit http://www.forcetherex.com. You can also follow Force on Twitter (@ForceTherEx) and Facebook (http://www.facebook.com/forcetherapeutics).
###