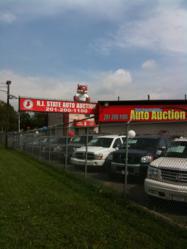 Shopping for a used car today seems harder these days, but we try hard to help our customers by providing a free Carfax vehicle history report to everyone.
Jersey City, NJ (PRWEB) October 03, 2011
The CARFAX mascot, "The Carfox", visits the New Jersey State Auto Auction in Jersey City, NJ to promote Quality Independent Used Car Dealers committed to their customers.
The New Jersey State Auto Auction makes it easy for used car buyers to find our inventory (cars, trucks, vans & suvs for sale) that is eligible for the CARFAX Buyback Guarantee.
Internet Marketing Director, Laszlo Ember said, "Actually, all of our used cars online have a Carfax Link Button, on each vehicle listing, so the customer can easily browse for cars and see the Vehicle History Report at the same time".
Our new vehicle arrivals are listed for sale on our website and are also posted to the CARFAX website under their CARFAX Hot Listings section. Each of the vehicles comes with a free CARFAX Vehicle History Report.
The New Jersey State Auto Auction makes sure that all vehicles are checked by CARFAX to have clean titles including the CARFAX Buyback Guarantee. The exclusive CARFAX Buyback Guarantee reduces the risk involved in buying a used car. If CARFAX fails to include a DMV-reported incident (salvage, fire, flood damage, odometer problems, lemon history) in a CARFAX Report, CARFAX states that they may buy the vehicle back for the full purchase price.
Also, included is a CARFAX Safety and Reliability Report, which lists crash test results, safety recalls, reliability ratings, and warranty information.
About New Jersey State Auto Auction:
Open since 1994, we have been helping the general public find and buy quality pre-owned Cars, Trucks, Vans and SUVs below Kelley Blue Book (KBB) Value. If you are looking for Used Car Bargains at Wholesale Prices with Clean Titles, then you have come to the right place.
The New Jersey State Auto Auction offers Free CARFAX Vehicle History Reports. All vehicles are checked by CARFAX, have clean titles, and include the CARFAX Buyback Guarantee. We also offer Auto Loan Financing, Online Auction Bidding, Auto Insurance, Extended Warranty Plans and we have a Full Vehicle Service Department. We are the largest car auction in the tri-state metro area, serving New Jersey, New York, Connecticut, Pennsylvania, Maryland, Delaware, Virginia and DC. We are ranked number one in customer service for all Public Auto Auctions in the Northeast Region.
About Carfax:
Buying a Used Car? Just Say – Show Me the CARFAX!
Every CARFAX Vehicle History Report™ checks for:
1. Title Problems
2. Ownership History
3. Accidents & Service Records
New Jersey State Auto Auction
406 Sip Avenue
Jersey City, NJ 07306
Phone: (201) 200-1100
Visit Our Web Site: http://www.NJStateAuto.com
Follow Us on Twitter: http://www.Twitter.com/NJAutoAuction
Like Us on Facebook: http://www.Facebook.com/NewJerseyStateAutoAuction
Subscribe to our Videos: http://www.YouTube.com/NJStateAuto
###