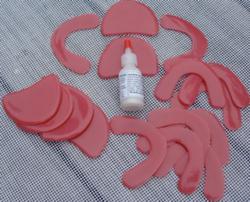 "Excellent product,as described, fast shipping"
Toms River, NJ (PRWEB) October 05, 2011
It is well known that the men and women who are dentists say they practice dentistry. As we know to practice is to exercise for proficiency. In other words, for the most part all dentists are still learning and trying their best to get their dental work right for their patients. Generally, they do excellent work. But when it comes to modern false teeth (dentures) there was still much need to make dentures more comfortable to wear. To fill that need Originals By Weber invented this all new (Patent Pending) Weber Denture Liner.
Here are a few facts that may interest everyone regarding the history of dentures. Sets of dentures have been found dating from the early 15th century, but they probably existed even before that time. Some were carved from hard wood, bone or ivory, or made up of teeth from dead or living donors. Those dentures we are told, were quite uncomfortable and prone to rot after extended use.
The first porcelain dentures were made in England around 1770 by Alexis Duchateau. In 1791 the first British patent was granted to Nicholas Dubois De Chermant, who had previously been an assistant to Duchateau. De Chermant described his denture as:" a composition for the purpose of making of artificial teeth. Either single or double or in rows, or in complete sets with springs for fastening or affixing the same in a more easy and effectual manner than any hitherto discovered. Thus, they could be worn for any length of time and consequently more perfectly resembled the natural teeth."
Chermant began selling his dentures in 1792 with most of his porcelain paste supplied by Wedgewood. Single teeth in porcelain were then made, starting around 1808. Later, dentures were made of vulcanite and then, in the 20th century, acrylic resin and other plastics became quite popular. In fact, during a survey in Britain, in 1968 it was estimated that 79% of people who were 65 to 74 years old had no natural teeth at all. Later, around 1998 this figure had dropped to only 36%.
When Weber was asked how come he knows so much about false teeth he replied:
"Years ago, my mother and my father had very soft teeth. Eventually, both of my parents had to have dentures made to replace their badly decayed natural teeth. As a child, I remember seeing both Mother and Dad reach into their pockets; take out their dentures before a meal and slyly the put them in their mouths so they could chew their food. Back then, I did not understand why they didn't keep the false teeth in their mouths all the time. I thought their smiles looked much better with teeth than without.
As you may have guessed, I just naturally have soft teeth. Now, my time has come to have dentures of my own. Therefore, I have gained a first hand understanding of the problems my folks had with their dentures. In short, I've discovered it hurts to keep dentures in the mouth all the time. Why? Because, after a year or so, denture wearers find their false teeth no longer fit properly. False teeth can eventually: wobble, get loose, fly out of your mouth unexpectedly, go clickety-clack, rub gums raw and generally feel uncomfortable. So, for most people - out they come until needed."
Ask a dentist why this happens and he will explain that it is because, after the extraction of natural teeth, the gums gradually shrink in size. So, as they shrink the acrylic denture that once fit so well, gets loose. As more time goes by, the looser the denture becomes. A dentist may suggest a patient should return to his office and have that now year old loose denture re-lined with a thicker layer of acrylic to (fill the gaps due to natural bone and gum shrinkage) and correct the problem. Some people do that at least once. But, many simply won't do it again. Why? because it just costs too much time and money.
Weber went on to explain more about this problem by saying:
"I tend to be creative and inventive. So, after several months of study of my loose denture problem and many, experiments with a variety of materials and compounds, I finally figured out a simple solution to the problem of loose dentures.
Now, with my new Weber Denture Liner kits (patent pending), in just a few minutes, any denture wearer can put this always soft, and flexible liner (requires no mixing),on his or her denture with the result that there is no need to visit a dentist to have the denture re-lined and made comfortable again."
These new do-it-yourself Weber Denture Liners solve the loose denture problem once and for all. Benefits include: low cost, easy to install, no mixing of compounds and the Weber Denture Liner compound is quite durable. In short, now all denture wearers can have false teeth that are more comfortable and better fitting then ever before when they use this Weber Denture Liner. Today, denture wearers can avoid the embarrassment of being seen in public without having their dentures in their mouths. In addition, eating food without worrying about loose or hurting dentures can be a concern denture wearers don't have to think about any more. And best of all, when using this Weber Denture Liner they can again give everyone they meet one of their big, beautiful smiles.
Weber was asked what kind of feedback he gets from users of his Weber Denture Liner Kit and he replied: "Here are a few of the comments I get from users:"
"I was looking for something new to line my dentures with so I went online.
I ended up at Amazon.com where I saw your kit, so I bought it.
After receiving it I found I could just order new liners from you.
They have worked very well for me."
"Excellent product,as described, fast shipping"
"WDL - perfect for me thanks AAAAA+++++"
"Excellent in all respects"
"Wonderful Product, Thank you will add you as one of my favorites…"
For more information about Weber Denture Liner Kits (Patent Pending)write to: Originals By Weber, 338 Alabama Avenue, Toms River, NJ 08753. Phone numbers are: 732-864-0353 or 877-309-8382. Price of the WDL kits are as follows: #RK-4 - With 4 circular liners for use as either uppers or lowers, plus 1 bottle of Weber Denture Adhesive Powder is $22.95 plus $3.60 s/h. Price of kit #PF-10 with 10 pre-formed liners in the shape of Upper or Lower Liners plus 1 bottle of Weber Denture Adhesive Powder is $39.95 plus $3.60 s/h. To place an order or to watch an explanation of the Weber Denture Liner Kits in Video format, go to the following website: http://www.yrret.stirsite.com/page/page/4578911.htm
###